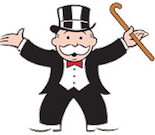 It's very bad news in a bad news year to hear that Silicon Valley billionaire Peter Thiel is bankrolling a set of lawsuits that likely will put one of the most despised and offensive publications, Gawker, out of business.
It's bad news because when people use money to control the press, that means the press, already in awe of people with huge money, will suppress the impulse to look into who they are and why they do what they do. It's only because of a small remaining irreverence for wealth that pubs are carrying the story of Thiel's new anti-speech venture.
But it's worse because it's the rich of Silicon Valley, which is more and more controlling our means of communication. At a time when the press is just starting to look at how they control discourse, to show so openly that they have so little respect for differing opinion, esp from an early investor in Facebook, that could have a whole new level of chilling effects on news about the inbred and highly sheltered tech industry.
It's precisely because Gawker is so offensive that they deserve protection. I hate what they did with Valleywag. I was a target of theirs, with stories they either completely made up or twisted to lead readers to incorrect conclusions. I saw them ridicule and try to destroy people for their humanity. Nothing scandalous about what they did. They just embarrassed people for being human. I was happy the first time Valleywag went under. And the second time. But I, like everyone who was targeted by them, endured it, and in the end it didn't make a difference.
The point of the First Amendment is that it protects the most offensive speech. If there weren't any offensive speech we wouldn't need protection. And some thin-skinned billionaires find anything but fawning praise to be offensive.
Let's hope this inspires what independence is left in tech news to use this revelation as a call to look even deeper at the shallow and brittle personalities of Thiel and other tech billionaires who use lawyers to silence criticism.