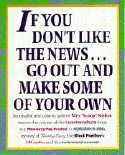 I once had a public argument with the celebrated award-winning journalist Lowell Bergman about whether judges would blog their own trials if journalism failed to cover them. Bergman disagreed. He mocked me. Said I was stupid. I thought hah I will have the last laugh, assuming I live long enough to see the day. It seems I have.
So this event, where the Speaker of the House turned off the C-SPAN cameras and a Rep took out his iPhone and transmitted the video via Twitter, which was then picked up by C-SPAN, illustrates exactly what I was saying.
When information wants to get from the source to the people who want the info, even if "real" journalists don't pick it up (for whatever reason), the people will find a way. Bergman wanted to believe he and his fellow journalists were indispensable. He wanted me to bow down and agree. He laughed at my foolishness. I knew I was right, however.