[Macro error: Can't call the script because the name "inserttitle" hasn't been defined.]
[Macro error: Can't call the script because the name "insertsubtext" hasn't been defined.]
[Macro error: Can't call the script because the name "insertbyline" hasn't been defined.]
Feb. 10, 1997
Intergraph closes Retail Solutions Group
End of the line for Bestinfo operation
Intergraph has closed its Retail Solutions Group, the descendant of the original Bestinfo PC composition software developer. Intergraph had acquired the operation in 1993 and shifted its focus from PC page makeup to database publishing applications targeted at catalog publishing and retail advertising.
---
(below) Type Processor One.This single-user system for producing display ads put Bestinfo on the map as a software developer, and it demonstrated ñ in 1983 ñ that WYSIWYG composition on a PC was viable. The font display was crude, but it did qualify as WYSIWYG according to most people's criteria. TPO also supported some basic graphics capabilities, including the ability to run text around irregularly shaped objects. Note the use of white text on black background.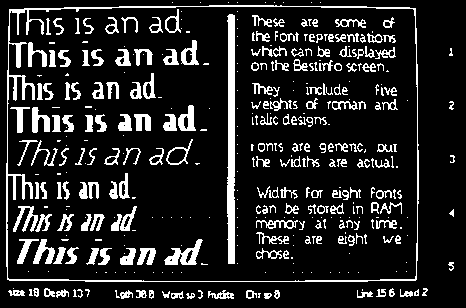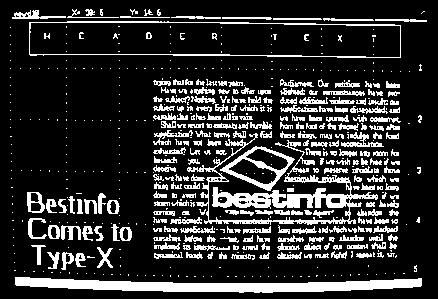 (below) Superpage. After success with Type Processor One, Bestinfo moved to pagination of multipage documents with Superpage and Wave4, which handled long documents and supported job tickets. It also produced good typographic quality. The editing program initially was built around XyWrite.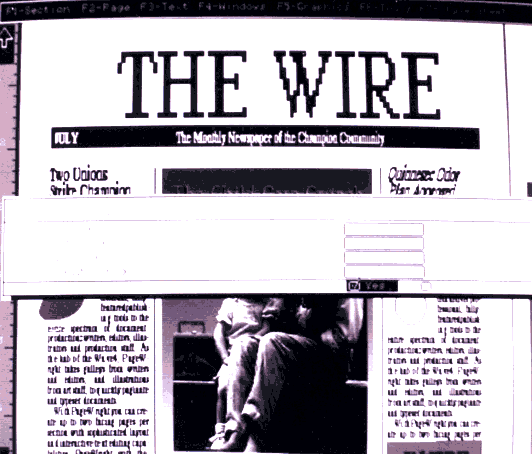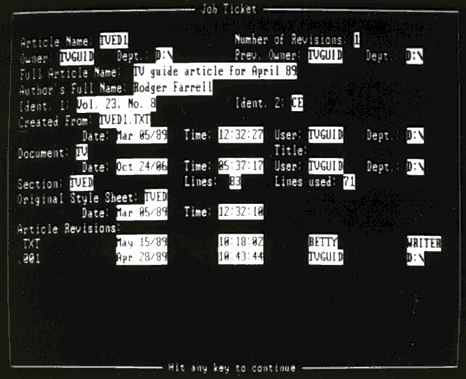 (left) Trac. The final product from Bestinfo, aimed at the retail advertising and catalog publishing markets, had sophisticated database capabilities and was used by about 25 customers at the time of the closing of development operations. Intergraph says it will continue to support those customers as long as there is demand.

---
The official explanation for the closing is that Intergraph wants to concentrate its investments on strategic and core businesses, which don't include publishing.

Bruce Sholes, who has been heading the operation, said there are about 25 customers currently using the RSG system, which is called TRAC.

Intergraph said that it would retain a limited staff of RSG personnel to honor existing commitments for support and development for those users, but that no further development beyond those commitments would take place. In a few months, any further support needs will be transferred to Intergraph's support organization.

We believe Intergraph is attempting to hire some RSG personnel for ongoing support roles. Conveniently, there is an Intergraph operation in King of Prussia, PA, just a stone's throw from the Bestinfo facility in Radnor, PA.

At one time, before changes in the market caused it to initiate cutbacks, RSG employed 28 people. An office established in the UK about a year ago to address the catalog market was closed after a few months.

We believe that efforts were made to try to sell the business, but that no satisfactory offers were received.

Strike 2 for catalog market. This fate for the RSG business marks the second blow for the catalog publishing market. The first was the decision by Scitex to discontinue development on its Catalogic system, at which time it transferred the product to a third party, AO International, which is providing support but no new development.

The exit of these two products leaves only Pindar's Catalog Management System in the market for heavy-duty, print-based catalog production systems. Pindar has installed about 25 systems worldwide, including five in the U.S. (of which the largest is at Office Depot).

Intergraph's pullout. For Intergraph, the RSG closing is another step in its gradual withdrawal from the publishing market. It earlier dissolved the division that was developing its DP Publisher color publishing system and currently is negotiating to sell its Optronics unit, which markets computer-to-plate imaging systems.

Bestinfo's farewell. For Bestinfo, which was a catalyst in the development of professional-level desktop publishing systems, the slide really began a long time ago, when the WYSIWYG page composition system that had brought high-end features to the desktop was abandoned as the industry turned most of its support to Quark Xpress.

Bestinfo began in 1983 with the introduction of Type Processor One, a WYSIWYG, single-user software product for creating display ads on a PC. It was developed by Jim Bessen for use by a weekly newspaper in Philadelphia. That led to Superpage, a page makeup program that produced better typography than mainstream products and offered some nice functionality, but lacked the ease of use needed for mainstream products.

Superpage evolved into Wave4, which added features for pagination of longer documents and achieved a respectable customer base — before being run over by the Xpress train.

The last portion of the legacy was the move to database publishing with TRAC and the acquisition by Intergraph. Although TRAC succeeded in gaining 25 customers, Intergraph wasn't in it for the long haul. Its failure to succeed with DP Publisher and its associated modules, in spite of an enormous effort, was a precursor of things to come. The retail advertising and catalog publishing markets looked promising, but the RSG operation never seemed to fit well in the Intergraph lineup. It isn't surprising that it has suffered this fate.