Geek love
Sunday, March 25, 2007 by Dave Winer.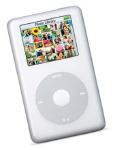 Sometimes people fall in love with geek toys for reasons they can't express.
It could be that they love iPod because it's a hard drive that you can put massive quantities of free music on and take with you everywhere. It may have nothing to do with the cool UI (which I don't think is really all that cool).
And Apple TV may be fun for geeks who have never had a computer hooked up to a HD TV, while its fatal flaw is --> no BitTorrent content, no Netflix content, just what Apple says you should have.
It may solve the "problem" with the iPod that was really core to why people loved the iPod.
That's just a theory, I don't have an Apple TV, but I do have a Mac Mini connected to my TV and on the net and I think that's the coolest toy ever, even after almost six months.
PS: I wrote this as a series of Twitter tweets.