My Digg clone -- from Reddit!
Wednesday, January 23, 2008 by Dave Winer.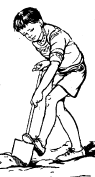 11/26/07: "I wonder if we could start a Digg-like community with the readers of Scripting News."
It would be the editorial system of a community formed around this blog. Eventually, every blog with even a small number of regular readers would have one. The bigger the blog, the more like Digg it would be. That's not necessarily a good thing, because as these things get large, they move away from the eclectic and toward the humdrum
1/22/08: "You will be able to make three kinds of reddits: public, restricted, and private. A public reddit is just like the current reddits: anyone can view and submit to them. A restricted reddit allows anyone to view the content, but only invited members may submit, comment, or vote. A private reddit is like a restricted reddit, but with the additional restriction that only members can view the content as well. Moderators of a reddit will be able to remove posts and ban users from their reddits."

Dave Winer, 53, pioneered the development of weblogs, syndication (RSS), podcasting, outlining, and web content management software; former contributing editor at Wired Magazine, research fellow at Harvard Law School, entrepreneur, and investor in web media companies. A native New Yorker, he received a Master's in Computer Science from the University of Wisconsin, a Bachelor's in Mathematics from Tulane University and currently lives in Berkeley, California.
"The protoblogger." - NY Times.
"The father of modern-day content distribution." - PC World.
One of BusinessWeek's 25 Most Influential People on the Web.
"Helped popularize blogging, podcasting and RSS." - Time.
"The father of blogging and RSS." - BBC.
"RSS was born in 1997 out of the confluence of Dave Winer's 'Really Simple Syndication' technology, used to push out blog updates, and Netscape's 'Rich Site Summary', which allowed users to create custom Netscape home pages with regularly updated data flows." - Tim O'Reilly.
Dave Winer

---
My most recent trivia on Twitter.