Knol is Google's Wikia
Monday, July 28, 2008 by Dave Winer.

Wikia is Jimmy Wales' dream of doing to Google what Wikipedia did to Britannica. Unfortunately for Wales and his investors, Google had a 10-year lead, and a huge ecosystem had been built up around it. Google is a thriving coral reef, and one doesn't just show up one day with an idea and compete with an ecosystem. That's why Wikia didn't, and isn't likely to work.
It's amazing how balanced the arrogance is, because the same thing that makes it so hard for Wikia to gain on Google is going to make it virtually impossible for Google to catch Wikipedia with Knol.
The thinking is likely just as superficial and greedy as Wales' hypothesis that the approach that could unseat Google is the secret sauce that makes Wikipedia work, as if that had anything to do with Wales. It doesn't, anymore than Google needs Larry and Sergey to keep on rolling as a coral reef ecosystem. See, Wikipedia is a coral reef too, and you don't just open shop one day and think that because you can drive flow into your version of Wikipedia that the coral reef will magically assemble on your plot of ocean bottom. Instead what you attract are spammers, as Duncan Riley observes in his writeup on Inqisitr earlier today.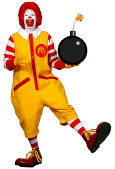 Google is going to keep being the coral reef for search, and Wikipedia is going to be the coral reef encyclopedia. Ironically, Knol probably would have fared better if instead of having the appearance of Google tilting the table in its favor, search engine-wise, they had put something in its robots.txt file that kept the Google crawler away, so that the opportunists would have stayed away too. That would have given them some time out of the spotlight to build up some real momentum, giving it a chance to compete with Wikipedia. Not sure what Wikia could have done, the idea seemed doomed from the start, because search isn't like a Wiki, and human-authored search results are something of a contradiction.

Dave Winer, 53, pioneered the development of weblogs, syndication (RSS), podcasting, outlining, and web content management software; former contributing editor at Wired Magazine, research fellow at Harvard Law School, entrepreneur, and investor in web media companies. A native New Yorker, he received a Master's in Computer Science from the University of Wisconsin, a Bachelor's in Mathematics from Tulane University and currently lives in Berkeley, California.
"The protoblogger." - NY Times.
"The father of modern-day content distribution." - PC World.
One of BusinessWeek's 25 Most Influential People on the Web.
"Helped popularize blogging, podcasting and RSS." - Time.
"The father of blogging and RSS." - BBC.
"RSS was born in 1997 out of the confluence of Dave Winer's 'Really Simple Syndication' technology, used to push out blog updates, and Netscape's 'Rich Site Summary', which allowed users to create custom Netscape home pages with regularly updated data flows." - Tim O'Reilly.
Dave Winer

---
My most recent trivia on Twitter.