Fresh Air interviews Woody Allen
Tuesday, June 16, 2009 by Dave Winer.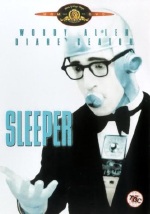 I love Woody Allen movies, more so over time, as I grow older, they seem to get better. A couple of years ago I went through them all, Annie Hall, Manhattan -- classics, but there were also some surprises, some great movies that I didn't remember as being great. I pretty much liked them all.
This weekend, I finally saw Vicky Cristina Barcelona, which got mixed reviews, but I loved it. On Twitter someone said it's just a beautiful postcard of Barcelona. Agreed, and what's wrong with that! People who love art somehow can't forgive a movie for not being heavy on story, but rather leaving an impression. Those are some of my favorite movies, they're more like paintings or postcards. Here, look at this scene and now look at this one. If it's beautifully done, if the acting is superb and the story convincing, as it is in VCB, what's not to like?
So, when I saw that Woody Allen was the guest on Fresh Air, I savored it. He doesn't do many interviews, and this one was disappointing.
Terry Gross went for the scoop. She wanted him to slip up and confess something about his personal life, so she repeatedly asked probing questions, which he skillfully and for me, painfully, dodged. This is the interviewer interfering, getting between the subject and the listener -- preventing the subject from talking about what the listener is most interested in. With Woody Allen, that would be movies! Who would be a better person to just let ramble about the art of movies. To remember his favorites, or what it was like to work with the writers and actors he's worked with.
There are little bits of this -- the script of his new movie was originally written for Zero Mostel, but he died before they could make the movie. You get a little peek behind the scenes, how he works, his craft, and how it relates to Mostel's.
Gross often nails it, where other interviewers are selfish, she lets the subject be the story. But not this time, unfortunately.
Recent stories

Dave Winer, 54, pioneered the development of weblogs, syndication (RSS), podcasting, outlining, and web content management software; former contributing editor at Wired Magazine, research fellow at Harvard Law School, entrepreneur, and investor in web media companies. A native New Yorker, he received a Master's in Computer Science from the University of Wisconsin, a Bachelor's in Mathematics from Tulane University and currently lives in Berkeley, California.
"The protoblogger." - NY Times.
"The father of modern-day content distribution." - PC World.
One of BusinessWeek's 25 Most Influential People on the Web.
"Helped popularize blogging, podcasting and RSS." - Time.
"The father of blogging and RSS." - BBC.
"RSS was born in 1997 out of the confluence of Dave Winer's 'Really Simple Syndication' technology, used to push out blog updates, and Netscape's 'Rich Site Summary', which allowed users to create custom Netscape home pages with regularly updated data flows." - Tim O'Reilly.
Dave Winer