River2 is ready
Thursday, September 03, 2009 by Dave Winer.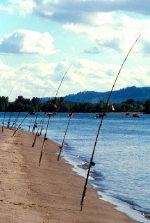 Or as ready as it'll ever be. :-)
It's an aggregator that runs on your desktop and supports reading lists, rssCloud and is a podcatcher.
I'm sure there are bugs and know there are still features to come, but I and others are using it all the time to keep up with what's new in RSS feedland, and to download podcasts, and as more cloud-aware apps come online, we're going to need software that can subscribe to the. That's what River2 is for.
If you have questions or comments, post them here or on the howto linked above.
Here we go and good luck to all of us!
PS: Now I've hit my first milestone due before the rssCloud meetup next Wednesday. I have a few others to cross off the list. Wish me luck!
Recent stories

Dave Winer, 54, pioneered the development of weblogs, syndication (RSS), podcasting, outlining, and web content management software; former contributing editor at Wired Magazine, research fellow at Harvard Law School, entrepreneur, and investor in web media companies. A native New Yorker, he received a Master's in Computer Science from the University of Wisconsin, a Bachelor's in Mathematics from Tulane University and currently lives in Berkeley, California.
"The protoblogger." - NY Times.
"The father of modern-day content distribution." - PC World.
One of BusinessWeek's 25 Most Influential People on the Web.
"Helped popularize blogging, podcasting and RSS." - Time.
"The father of blogging and RSS." - BBC.
"RSS was born in 1997 out of the confluence of Dave Winer's 'Really Simple Syndication' technology, used to push out blog updates, and Netscape's 'Rich Site Summary', which allowed users to create custom Netscape home pages with regularly updated data flows." - Tim O'Reilly.
Dave Winer