Advice on recording tomorrow's podcast?
Friday, October 02, 2009 by Dave Winer.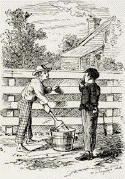 Tomorrow we're doing a live Rebooting The News podcast at the SF Hilton. It's going to present an interesting challenge because it will be in a room with a number of people talking, and without spending a lot of money on new equipment, I have to get them all on the recording with a single mike.
Which leads to this: omnidirectional microphone.
I'd like to have the room set up as a big conference room with seats around a table, and a single microphone in the middle of the table.
There will be no time for sound checks, it has to work the first time.
Whatever I buy has to be here by tomorrow mid-day. If it's not here, we'll have to go on without it.
It would also be nice to webcast it through BlogTalkRadio and perhaps Ustream or similar services.
One possibility, admittely low-tech, is to have everyone call in on their cell phones!

Any advice people have would be quite welcome.
Recent stories

Dave Winer, 54, pioneered the development of weblogs, syndication (RSS), podcasting, outlining, and web content management software; former contributing editor at Wired Magazine, research fellow at Harvard Law School, entrepreneur, and investor in web media companies. A native New Yorker, he received a Master's in Computer Science from the University of Wisconsin, a Bachelor's in Mathematics from Tulane University and currently lives in Berkeley, California.
"The protoblogger." - NY Times.
"The father of modern-day content distribution." - PC World.
One of BusinessWeek's 25 Most Influential People on the Web.
"Helped popularize blogging, podcasting and RSS." - Time.
"The father of blogging and RSS." - BBC.
"RSS was born in 1997 out of the confluence of Dave Winer's 'Really Simple Syndication' technology, used to push out blog updates, and Netscape's 'Rich Site Summary', which allowed users to create custom Netscape home pages with regularly updated data flows." - Tim O'Reilly.
Dave Winer