Coming soon: A Twitter camera
Sunday, December 27, 2009 by Dave Winer.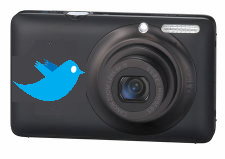 I've been trying to find an easy way for my mom to manage her own digital camera, and have settled on getting her a netbook computer she can travel with. I'll set it up so it's easy for her to take the SD card from the camera and plug it into the netbook and upload her pictures to Flickr. It'll be pretty easy, but then I was just driving home from dinner and realized that someday, maybe very soon, it will be even easier.
Imagine a Twitter-branded camera. Here's how it would work.
It would have the inverse of Amazon's Whispernet. Where Amazon wants to push content to the remote device, the purpose of the Twitter camera would be to push the content, pictures -- to Twitter.
The user interface would be simple. Take a picture. It shows up in the little screen built into the camera. There would be a blue button with the Twitter bird on it. Click the button and the picture being displayed is uploaded and a pointer is tweeted on your behalf. One-click publication from anywhere a cell phone works.
Ultimately cameras will be able to communicate. Until today I didn't realize that they would be hard-wired into social networks. I'm sure they will.
Of course there will be a Facebook camera.
And if Yahoo had been paying attention there would have been a Flickr camera, two or three years ago.
A UStream or Qik HD camera would be good too.

The key point is that the device and the online service will become inseparable and least for casual point-and-shoot people, like myself.
Recent stories

Dave Winer, 54, pioneered the development of weblogs, syndication (RSS), podcasting, outlining, and web content management software; former contributing editor at Wired Magazine, research fellow at Harvard Law School, entrepreneur, and investor in web media companies. A native New Yorker, he received a Master's in Computer Science from the University of Wisconsin, a Bachelor's in Mathematics from Tulane University and currently lives in Berkeley, California.
"The protoblogger." - NY Times.
"The father of modern-day content distribution." - PC World.
One of BusinessWeek's 25 Most Influential People on the Web.
"Helped popularize blogging, podcasting and RSS." - Time.
"The father of blogging and RSS." - BBC.
"RSS was born in 1997 out of the confluence of Dave Winer's 'Really Simple Syndication' technology, used to push out blog updates, and Netscape's 'Rich Site Summary', which allowed users to create custom Netscape home pages with regularly updated data flows." - Tim O'Reilly.
Dave Winer