| | |
| --- | --- |
| | Tuesday, February 22, 2000 |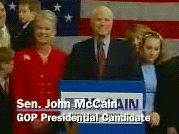 NY Times: McCain Is Victorious in Arizona and Michigan. "Mr. McCain's victory quashed any notion among Republicans that Mr. Bush is now their invincible nominee."

Kung Pao Chicken at Jing Jing's, home of Spicy Noodles! More pics tomorrow.

Press release: Register.com launches something that sounds like Manila. "With FirstStepSite, register.com customers can purchase a domain name such as www.mybrand.com for $35 a year and immediately create a Web site at that domain through the easy-to-use, template-driven WebSiteNOW! online Web site creation software developed by Inabox Inc. Sites for new customers can be viewed on the Internet immediately and are posted at the customer's domain name within 24-hours of creation."

CarpeDiem: We ARE a Community.

arch>inter.LOG: "I continue to keep a weblog because it creates content and contributes to the development of a community."

Two essays, one web. Different tools, same world.

BTW, I never would have found inter.LOG if it weren't for Weblogs.Com.

I think one of the next steps for Weblogs.Com is to allow people to create their own renderings of the data it contains. It doesn't have to be UserLand-branded. Why should this resource be tilted to one brand of Weblog? It shouldn't.

Karl Martino: "Here in ManilaLand, there are multiple places for people to go for guidance and recognition. Scripting News being the largest, but there are others like Carpe Diem that consistently point me in cool directions as well."

Wired: "AOL Europe announced Tuesday that it plans to give all German primary and secondary schools and 900,000 German schoolteachers free access to the Internet."
Tom Donovan has Manila Express functionality for the Mac.
Salon: "McCain went to Minnesota with his top aide to study the Ventura campaign when he was preparing his own run."
News.Com: Dell to build, manage small-business Web sites.
Dell: How to select a hosting provider. They don't list software as a differentiator, which tells you how far this market has to go.
I find the Weblogs.Com hotlist endlessly fascinating.
Twenty-three sites are pointing to the hotlist now. "Watching them watch us watching them."
That's enough to get it on the hotlist, so tomorrow it will be watching them watch us watching them watching us watching them. You get the idea.
Marc Canter: "Everyone should have a theme song."
More stats. The 50 most-read pages on Weblogs.Com.
Oliver Breidenbach: "Austria is currently a political hot spot. However, its people are very traditional. While hundreds of thousands demonstrated in Vienna, in Mariapfarr thousands celebrated the anniversary of a local hero's struggle against oppression a couple of centuries ago, in traditional costumes."
Blotter is a "powerful extension to the standard Manila website offered by weblogger.com."
Dan Gillmor: Vertical technology markets returning as info appliances.
I just cleaned up the global shortcuts site, these are the shortcuts that work on all UserLand-hosted sites.
One sure way to get me to point to a site is to whine about me, using an aesthetically pleasing template. It's true, there are security concerns with HTML email. It's also true that I was excited by the power I had gotten.

On the Web, I don't have to think through all the implications behind my opinions, because in an instant, the full depth is explored. This is a group-mind you're interacting with, the kind of stuff Engelbart experimented with and Nelson wrote about.
NY Times editorial: Privacy on the Internet.
John Gilmore: "The rest of the world does not want American ideas of free speech shoved down their throats."
Webfeet, a Manila site, was named a Top Site In Malaysia.
Kevin Kelleher translates the Italian review of EditThisPage.
WAPobjects Framework brings WAP to WebObjects.
James Fallows: "But the Internet, with its near-zero distribution costs and its ability to group widely dispersed people with common tastes, may be a hospitable environment for boutique enterprises. Maybe that's where I'll launch my little word-processor company."
Fallows got a mention in the UserLand DG: "In theory, Agenda could read large files and separate the information into various categories automatically. Jim Fallows was the only guy I ever knew to get this feature to work."
We have another goodie for today, but I forget what it is!