| | |
| --- | --- |
| | Monday, March 27, 2000 |

Pike Beta: Browsing your Manila site in Pike. "A new version of the Pike menu allows you to view your Manila site locally. This should be an eye-opener for people who have never seen what a Manila site looks like behind the scenes."

New Manila feature: Linking to archive from the News Day template. "Jason Levine implemented a cool feature that was catching on in the weblog world on his Queso web site, and I said 'This is going to be in Manila' and implemented it on Scripting News, and now it's on EditThisPage.Com, and when Brent is ready to distribute it, it'll be on all other Manila sites."

Pics from ManilaPalooza: Susan Kitchens, Jake Savin, Jeff Cheney.

NY Times: Talks in Microsoft Case Continue as Judge's Decision Looms.

I'm busting with pride over this site. I've been working with Dale since last summer and the seed planted then is popping through the earth now. We have a very ambitious project in the works with O'Reilly. I think it's going to work. Happy!



One thing remains constant across source code systems, net outages, and the patent system, Murphy's Law.



But sometimes things work that you don't think will. For example, I tried typing this URL into my browser, and hot damn, it worked.



Edd Dumbill: "And you never tried /edd/?"



1/29/00: "At dinner last night I told the story of my company and likened the last year to jumping out of a plane with no parachute. One of my dinner friends said that's crazy. So I said OK, you have a parachute. Later I thought about it and realized that there is no parachute. Not only do you have to create the parachute while you're in free-fall, you also have to invent the damned thing!"

Followup to yesterday's escalation through WEF to management at PacBell. Lance Knobel contacted the exec in charge of worldwide operations of SBC, the parent company of PacBell. We use routers in the human world too! I forwarded Lance's email to the NOC mailbox at Conxion, asking them to get ready to work with SBC.

Susan Kitchens on new slogans she learned at ManilaPalooza, including Biermania, which will be the name of Bierman's new weblog, starting sooon, we hope. Too bad Susan doesn't want to share her mother's secret slogan that gets people to laugh when she's taking their picture.

Survey: Should I reveal Mrs. Kitchens' secret slogan? 100 yes votes required.

I was searching for a smiley face collection on Google and to my surprise one of the top hits was a Manila site. Excellent!

OK, we got the hundred votes, thanks everyone, so here's the secret slogan. Enjoy!

Press release: MSIE5/Mac.

WSJ: An ex-reporter tackles the future of Net media. "In the mid-1970s, Jonathan Sacks was a reporter at the tiny St. Cloud Times in Minnesota. Today, he's got an audience of 22 million at one of the most powerful media companies. His title is senior vice president and general manager of America Online Inc.'s Interactive Services. That means he is in charge of programming and commerce for the giant AOL online service, the Aol.com Web site and the AOL Instant Messenger tool for chatting online." I know Jon Sacks. I saw the video of his speech. He was arrogant back in the 80s, but tolerable. Today he's unleashed!

MacWEEK: Internet Explorer 5 ships.

Ryan Szekeres has screen shots of MSIE5/Mac.

Tom Clifton sent a screen shot of XML in MSIE5/Mac.

Wired: "Microsoft's 11th-hour stab at settling its antitrust case is going nowhere fast."

On Friday, NPR's Talk of the Nation covered software patents. According to William Krzysko, who heard the broadcast, "Q. Todd Dickenson, Assistant Secretary of Commerce and Commissioner of Patents and Trademarks was on the show, discussing technology patents. When asked about the Amazon 1-Click patent, he suggested that people request a re-examination of the merits of the patent, which could result in its cancellation."

Wow, listening to it now. They think that baseball's double play could be patented if it wasn't already being done. Geez Louise.

Let's hope Wired nukes the latest redesign soon. I can't read articles this way. My mind doesn't work this way. I wonder if they're trying to kill their pub?

David Humphreys: "We've been using weblogs at Organic to try to start a community diary around a given project. It's a new program -- a week or two old -- but we're definitely going there."

Optimem: "Scientists from the European Media Laboratory in Heidelberg, working together with the Institute of Computer Science at the University of Mannheim, have demonstrated that 10 gigabytes of data can be stored on a roll of conventional adhesive tape"

WSJ: "Microsoft Corp.'s offer to settle federal antitrust charges frees computer makers to embed competitors' software into Microsoft's Windows, one of several major concessions that could form a basis for resolving the case, people close to the settlement discussions said. Under the proposal, personal-computer and software makers would be allowed to modify the secret "source code" underlying Windows to add rival products such as Internet browsers or media players."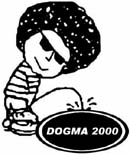 Netdyslexia, the Cuba of the Manila bloc, takes on Kottke. "Stolen? Mr. Kottke should know that there is a difference between interface-design and website-design." BTW, I apologize for correcting the punctuation and capitalization in the ND post. I haven't yet fully conformed to Dogma 200, more or less. Still diggin!

Dack.Com: web economy bullshit generator.

Blogger gets permanent links.



ESPN: "The Kingdome, which went from engineering marvel to anachronistic eyesore in just 24 years, was demolished in a controlled implosion Sunday to make room for a new, more expensive stadium."

2/20/95: "The Department of Justice is powerful. They're part of the US Government, which has a huge army, navy, air force, and nuclear weapons. How will this faceoff be resolved?" I guess we found out. They blew up the Kingdome. Ooops!

NY Times: "Since digital photography is essentially an electronic form of instant pictures, Polaroid is either in a unique position to move into this field -- or uniquely suited to be rendered obsolete by it."

Michael Rose explains how he got Pike to work with his Frontier server.

Weblogs that point to PikeBeta.

Andre Radke on ManilaPalooza: "For me, probably the most interesting part of the event was to discuss the possibilities of embedding Python in Frontier with Frederik Lundh of Pythonware."

Denise Caruso: "For the last couple of months, Doerr, the venture capitalist, has been redefining success from an even broader perspective. In public forums, he has been encouraging a shift in focus from mercenary to missionary, asking executives to think about starting companies and building products that they believe will change the world, rather than merely amassing wealth."

According to Brent the word of the day at UserLand is Wiener Schnitzel, and yesterday was Brent's 32nd birthday! Happy birthday Brent and pass the Schnitz.

Wiener Schnitzel, the national dish of Austria.

With over 300 restaurants, Wienerschnitzel is the largest hot dog fast food chain in the world.

Salon: Keep a Web journal, get fired.. or worse.

blog blog blog blog blog blog blog blog blog blog blog blog blog blog blog blog blog blog blog blog blog blog blog blog blog blog blog blog blog blog blog blog blog blog blog blog blog blog blog blog blog blog blog blog blog blog blog blog blog blog blog blog blog blog blog blog blog blog.

The word "blog" makes me want to blog.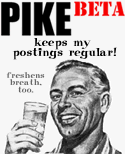 Last update: Monday, March 27, 2000 at 10:28 PM Eastern.
Dave Winer


Feb
Apr