| | |
| --- | --- |
| | Saturday, September 09, 2000 |

DaveNet: The P in P2P.

Open source and commercial developers, please vote in yesterday's survey. Very interesting results. Most want to work with each other. Go figure!

Yesterday I had a phone talk with someone I've never gotten along with. Something happened that made us want to settle our differences. My former adversary said "Shit happens." I thought for a minute, took a deep breath, and agreed. So much of what we care about happened long ago when things were quite different. If you stop and think, what are our differences, in the present context? They might not seem so great if you look at it that way.

Talking with Nicholas Petreley a few days ago I said that the problems that open source addresses have already been dealt with. It's true that the old commercial companies abused their power, horribly. In 1993, had I known that there was such a thing as the open source movement, I might have joined wholeheartedly. As an independent developer I had been crushed by the giant commercial companies. Microsoft and Apple did deals that traded favors and routed around our creation, imho to the detriment of Macintosh users. But then the Internet rolled through the desktop, and we got our freedom. Even though Microsoft and Sun tried to capture it, it didn't work. We still have freedom. The big commercial companies that open source routes around are neutered now. So re-think your philosophy, if possible. Can you agree with this statement: Ask not what the Internet can do for you, ask what you can do for the Internet? That could be the thing we agree on.

News.Com: US sides with RIAA against Napster. "The 'friend of the court' brief was jointly submitted by the civil division of the Justice Department, the US Copyright Office and the US Patent and Trademark Office."

Rebecca Blood has written yet another history of weblogs that doesn't mention Scripting News. Started on 4/1/97. I love to get out in front, and I even like it when other people copy what I do. But I hate not getting credit. Thanks for listening.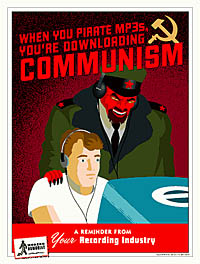 Last update: Monday, September 11, 2000 at 12:01 PM Eastern.
Dave Winer


Aug
Oct