| | |
| --- | --- |
| | Sunday, December 15, 2002 |

A new storm is blowing in. Hope the power stays on, if not, I'll see you as soon as it comes back. Namaste y'all!


NY Times: "Al Gore has decided against running for president in 2004, according to associates of Mr. Gore. Mr. Gore will announce his decision in an interview on 60 Minutes tonight, according to those sources."


Frontier 9.1b2 for MacOS X is available.


Wired: The Outlook Killer? "Mitch Kapor isn't trying to take on Microsoft. His ambitions are bigger: He wants to spark a software revolution."


Joi Ito joins the Weblogs in Meatspace discussion from his weblog in Japan.


Sam Ruby is on a roll. His blog is incredibly useful these days. Bravo. Keep up the good work.


12/15/97: Real-World XML. "Everyone talks in hushed tones about XML. Shhh. It's exciting! But what does it do?"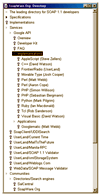 With all the talk about outlines these days, perhaps I should rev up the evangelism jets for a couple of ideas from the past, one implemented and one not. The one that's implemented is OPML-based directories, like the directories on Yahoo. We have all the software written, and it's ready to be cloned in PHP, server-side Java, Cold Fusion, you name it. It basically takes an outline, in OPML, and turns it into a browsable hierarchy. It's got a zinger in its design, called inclusion, which is like inclusion in C. In C, you put a #include in a program where you want the contents of another file to appear. Unfortunately the HTML Web doesn't have inclusion (big missed opportunity, imho) but the OPML Web does. It allows the author of a directory to delegate branches of the directory to other people, and the suggestions for new links go the author of the sub-directory. For the reader the connection is seamless. For the author it's a matter of right-clicking on an outline node and entering a URL in a dialog. It's even more decentralized than DMOZ is, and like the Web, is open to many home pages, not just a few. The other outline-related idea that I never got around to implementing, but do know how to implement (I think) is what I called "timeless weblogs". Basically you'd route a weblog post to a section of an OPML directory, as described above, using the <category> element that's been in RSS since 0.92. Then it would appear in a news box on that category, so you'd get persistent links on the left hand side, and new bits that are not permanent, in the news box. As with all these things, if you have an idea, the time may not be right. Maybe it's right now for these ideas. Just a Sunday morning pondering.


6/2/02: How to create a directory in Radio's Outliner.


Demo. Here's a screen shot of the outliner in Radio editing the directory on SoapWare.Org, which is a Manila site. All Manila sites have the Yahoo-style directory browser, built-in.


Mr Barrett: "From my airplane window last night, I saw fireworks over a small midwestern town."


On this day in Y2K, Susan Kitchens grandpa turned 100. Meanwhile in NY in 2002, my father is eating solid food, sitting up, and completely breathing on his own.


Wired: "Evil," says Google CEO Eric Schmidt, "is what Sergey says is evil."


Ringnalda: "The comment spammers won by making me look at every comment on every weblog with a jaundiced eye."
Lights back on at 12:18PM Pacific. A 22-hour outage. One of the longer ones. We're having an unusually potent winter storm in Calif. Expect more outages as the day goes by.
Last update: Sunday, December 15, 2002 at 6:39 PM Eastern.
Dave Winer


Nov
Jan