| | |
| --- | --- |
| | Sunday, January 19, 2003 |

For review: How to extend Radio's RSS generator.


NY Times: "The evidence is now overwhelming that Linux, once a symbol of software's counterculture, has become a mainstream technology."

Football: Tampa Bay, Oakland win.


Digital Hit is blogging the Golden Globe awards.
Zawodny:
My stuff is where?
Exactly.


Peking Duck, a weblog from Beijing, is totally right on.
Every time I post a comment on a weblog I have to remember to go back and see if anyone followed up. We have to figure a way to automate this. Agree or disagree?

Of course the really big news will come later today when the semi-finals of US football are played, the league-level championships, to decide who plays in this year's SuperBowl. The finalists are Oakland, Tennessee, Tampa Bay and Philadelphia. Both NY teams made the playoffs, but they got nuked in earlier rounds, as did the local faves, the SF 49ers, who fired their coach shortly after losing. Yosemite Sam, pictured below, is a caricature of a 49er. I don't know if he asked if there's gold in them thar hills, but he did use the word galoot a lot, mostly to refer to other Warner Bros cartoon characters. The great thing about Sam is that he could fire his guns at the ground and he was so small he would lift off. Almost everything pissed him off.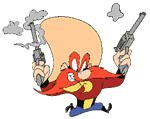 Thanks to Ben Hammersley for summarizing all the trackbacks and pushbacks and post-its and what-not. I'm old school. I think the cool thing about weblogs is that they are not discussion groups or mail lists. If I want to know what all the people are saying there are ways to do that, but very often I'm content to read email and a few weblogs that I trust. Personally I don't think there's gold in them thar hills, but of course I've been wrong before.


For some reason I thought of Brent when I saw this.


David Weinberger: Open Spectrum FAQ. "Imagine rather than having to worry about how much 'bandwidth' is enough, everyone had unlimited access to bits so that the size of what you communicate simply didn't matter."


According to dweb.blogspot.com, Pyra changed the IP address for blogspot, so people in China can now access all the sites hosted there. Of course the Chinese censors are certain to figure out what's going on. Postscript: Several readers have pointed out that China controls its own DNS, so it has blocked the Dweb site at that level.


Tri-Valley Herald: "Protesters marched up Market Street to the Civic Center, where celebrity speakers including actor Martin Sheen and singers Bonnie Raitt and Joan Baez addressed the crowd." An actor who plays the President, gives a speech at a real demonstration. That crosses a line.


Three years ago today Hedy Lamarr died.
Last update: Sunday, January 19, 2003 at 9:09 PM Eastern.
Dave Winer


Dec
Feb