| | |
| --- | --- |
| | Thursday, May 01, 2003 |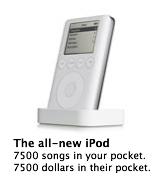 News.Com: Campus 'mini-Napster' suits settled. "The settlements will see each student making payments to the RIAA totaling between $12,000 and $17,000, split into annual installments between 2003 and 2006."


Baseball Blogs aggregates all the baseball weblogs that Todd Muchmore, a Red Sox fan, has found.


Ed Cone: "I write better and more fluidly the more I write. It's more like a candle lighting another candle than a ladle emptying a pot."


Steven Bove, via email: "Here's the SARS virus in all it's glory, the whole genome for your perusal over breakfast tea! This is one of those strange moments in history that is profound. A virus attacks humans, scientists sequence it, publish it to thousands of other scientists via the Internet and then start hacking it for weaknesses and angles for debilitating attack. Not science fiction, reality."


Glenn Otis Brown of Creative Commons responds to Dan Bricklin.
Listening to EL Doctorow on NPR's Talk of the Nation. He also went to Bronx Science, as did Marvin Minsky, and had an experience similar to mine.


I like to torture myself with pics of my California garden. Jim Zellmer enhances the pain with pics from his recent trip to California. Vincent Flanders loves Seattle but tortures himself (and us!) with pictures of spring wild flowers in California.


John the flowers here are blooming too. But there's a difference. In California on May 1 the weather is glorious. In Cambridge it's iffy. People here revel in the iffyness. In California they bask in the certainty.


Welcome Microsoft's Sara Williams to the world of weblogs.


More aggregators support RSS 2.0.


Lance Knobel comments on the "extraordinary" WEF annual meeting in Jordan in June.


Tiernan Ray: Why Blogs Haven't Stormed the Business World.


Christian Crumlish notes that Rogers Cadenhead's book on Radio is the first-announced tool-specific weblog publishing book. No doubt there are more to come. Blogging software is all about ease-of-use, so people often overlook the depth. A product like Radio is also a rich developer platform and content management system. So many people don't know that. More books will help reveal the richness.

I've been emailing with Joi Ito, now that he has invested in UserLand-competitor SixApart. He quoted me on his weblog saying "He's in the pool," along with UserLand's employees and investors. I find we have common interests. Joi is a good person to have as a competitor. I find that I want to defend him as an honorable person when his integrity is challenged. I hope we work together to elevate the competition in this space. I'm like him, in the pool, but on the side, not in the middle. I have a very substantial interest in the success not just of UserLand, but of the activity of weblogs. I'd like to be in a position to cheer when any of the companies in this space wins.
Every day a small number of people keep me from participating on the syndication mail lists through flames. Yesterday one of them said a product I created couldn't do something that it can do. They send private email to friends and people who work with me, and their spouses and significant others. In a sense these people are competitors too, but not the kind you like. I'd like to see people stand up to them when they act publicly so I can work with others using the collaborative tools that are available.


Two years ago: "Good morning strategic taxpayers!"


Tim Bray: "XML is like sex, even when it's bad it's still pretty good." It's true it's true.


Doc with a pic of Halley, lookin good.
Last update: Thursday, May 01, 2003 at 2:58 PM Eastern.
Dave Winer


Apr
Jun