| | |
| --- | --- |
| | Monday, May 12, 2003 |

Will interop always mean Works With Microsoft?


Dave Sifry announces a new API for Technorati. Here's glue for Radio and Frontier and feedback for Big Dave.


My rebuttal to MSNBC's Jon Bonne on blogging & politics.


Great new design over at Bryan Bell. Bakersfield in the 40s.


Lessig: "On June 2, the FCC is scheduled to release new rules governing media ownership."


Oy. Slashdot has trouble differentiating wild speculation by an insane reporter from fact.


Betsy went to the beach with Halley and Scott.


Microsoft and Apple exchange barbs in Markoff's column in today's NY Times. "We only showed glimpses of the future of Longhorn," said a Microsoft spokesman. "Wait until the fall when we'll go into more detail at the Professional Developers Conference."


Scary. If you search for Winston Churchill on Harvard's search engine, this is what you get.


Rogers Cadenhead: "Biswanath Halder, the former student who killed one person and injured others in a shooting rampage at Case Western Reserve University last week, was motivated by an experience that will be well-familiar to webloggers: an abusive troll on his Web site."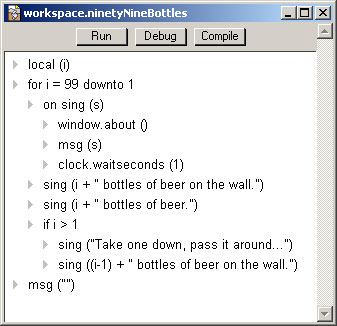 Joshua Allen blows smoke about the Longhorn UI. "Just wait until they actually see Longhorn UI, and their jaws drop permanently agape."


On this day in 2001, Douglas Adams died.

Before there was B2B, P2P or Java, John Sculley and Alan Kay gave us intelligent agents. Then Marc Porat brought them back, but they went back on the scrap heap when General Magic went bankrupt. They were revived briefly, in 1997, a shadow of their former glory, it didn't work, and they left the limelight, hopefully for the final time. I guess every so often we pick up these failed images and try to revive them. The people picking them up are not product creators or even users, they are hypesters and carpetbaggers who do nothing but suck the life out of contemporary products that do real stuff that people really use. Why anyone would willingly associate with one of these trends is beyond me. It makes you drop, precipitously, on the ladder of intelligent people with minds who use them, imho.


News.Com: "Sun Microsystems says its much-hyped Jini software is finding a new use in nuts-and-bolts business applications, rather than in networks of futuristic consumer gadgets as the company originally intended."

Another good example of overhyped technology, perhaps the best example ever, is The Semantic Web. It's such a great example because while the hype was raging, Google, which is the counter-argument, was becoming the main gateway for the Web. Proponents of The Semantic Web want to boil the ocean by getting people to change the way they write for the Web. As if that weren't hard enough, they can't quite tell you, yet, how you're supposed to change. In the meantime, Google does a fine job of finding the stuff you want, making the barrier even higher for the SW, should it ever get real.

I have an admission to make. Last night in a dream I was chasing Madonna, and got her. She was bitchy and spacy, but in the end sweet and supple. I fell in love, in a dream. How about that. It was nice.


Scoble, who I talked with last night, had a vivid dream too.
Last update: Monday, May 12, 2003 at 7:16 PM Eastern.
Dave Winer


Apr
Jun