| | |
| --- | --- |
| | Wednesday, October 08, 2003 |

DaveNet: Nine Years of DaveNet.


I'm speaking at Stanford Law School on November 24, a series hosted by Larry Lessig. The talk is at 12:30PM and is open to the press and public. I'll stick around and do Thanksgiving in the Bay Area. Good timing, that's when it'll be starting to get really collld here in beantown.


Draft Clark: "By the time you read these words, the bell will be tolling for Wesley Clark's candidacy."


Taegan Goddard: "There seems to be full scale turmoil in Wesley Clark's campaign."


Jim Moore: "Three weeks ago a friend of mine traveled to Little Rock and began working for the Clark campaign. Despite having very good personal access to General Clark, he quit after a few days, citing the closed nature of the campaign organization. And now we hear a similar tale from the campaign manager."


AKMA's BloggerCon retrospective.


A friend of Doc's died on Monday after cosmetic surgery.


MIT Tech Review has a weblog. No permalinks, no RSS.


Official map showing counties where Schwarzenegger won.


vbAccelerator has an RSS feed.


Bryan Bell pic of the Day 1 meeting room. I think most people agree it was a lively discussion, lots of back and forth, but look at all the people looking at the screen. Comments.

At every conference it seems, someone gets mad at me. My style of public talking has its pluses, the discussion can be lively, but some people's buttons get pushed. Most people go through this without making a scene. At this conference no one went ballistic, I'm thankful for that. But the Web being what it is, it still could happen. My job is to take a deep breath, and go on.



If you're in the Boston area and were at BloggerCon, you are especially welcome at tomorrow night's weblog writer's meeting. I want to hear what everyone thought of the conference. How should Thursday nights change now that it's behind us? Should we webcast the Thurs meetings so that when we have guests they have an idea of how they work? Where are we going next?


An archived Lydon interview with Edward Said, who he calls the "preeminent Palestinian public intellectual in America." Said died last month.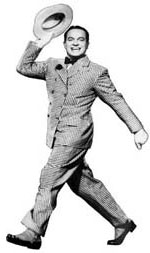 Wired: "As the major record companies scramble to put a lid on peer-to-peer file-sharing networks like Morpheus and Kazaa, an upstart California record label is trying to revolutionize the industry by taking the opposite approach: making file sharing the heart of its business."


Last year on this day: "I tried Google News. 4000 pubs all reporting the same story is 4000 times more boring than one. Didn't interest me one bit. I'm spoiled, I've got my own virtual newspaper.
Last update: Wednesday, October 08, 2003 at 5:48 PM Eastern.
Dave Winer


Sep
Nov