| | |
| --- | --- |
| | Saturday, April 16, 2005 |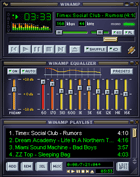 Today's podcast is Part II of answers to Shel Israel's questions for the book he's working on with Robert Scoble. Also a bit of music from USA for Africa (1985). One of my neighbors is sitting outside my window, so I felt self-conscious. No matter, I speak my mind anyway.

&nbsp
Happiness is WinAmp. Now that I'm switching to the Archos (it arrives on Monday), I can start phasing out iTunes. I've never figured out how it works, if you can believe that. So when I came across an "ogg" file and found that WinAmp could play it, I grabbed a copy. I forgot how nice it is! &nbsp
Bill Gross's new search engine is Snap.Com.&nbsp
Microsoft's Jim Allchin had dinner with some bloggers in SF last night. It was set up by Scoble. Now, while it's true that Microsoft has embraced blogging to a greater extent than any other big corporation that I'm aware of, it's totally unbloglike to make a dinner invite-only, and keep it a secret until after it's happened. &nbsp

Totally coincidentally, I mentioned Allchin in a comment on Don Park's blog, yesterday. Hey, Don should have been at that dinner. He could have talked about Korean food, music or theater, or Win32 APIs. Not surprisingly, Marc Canter thinks he should have been there too (even though he's in Korea now). See what I mean about invite-only blogger dinners? You wind up creating fewer friends, more nagging. (I won't say enemies, too much is made of that. You can't fight a war with fingers and eyeballs, or can you?) Okay this post is long enough now to host the rotated Abe Simpson du jour. &nbsp
Interesting comments on yesterday's beach pictures.&nbsp
Last update: Saturday, April 16, 2005 at 7:03 PM Eastern.
Dave Winer


Mar
May