| | |
| --- | --- |
| | Friday, May 06, 2005 |
Scoble reports that Microsoft has reversed its position on the anti-discrimination bill. &nbsp

I took my first trip on Southwest Airlines today, a direct flight from Jax to Nashville. All SW flights are open seating. I got to the airport late, so I got in the third group. The flight was full. I groaned, assuming that meant a middle seat for Uncle Davey. Well, as it turns out, not. As I'm walking on the plane, only four people after me, I spy a middle seat open between two skinny people, a man and a woman, with lots of stuff on the seat inbetween. They look like a husband and wife. I point to the middle seat and ask if it's open. They look at me unpleasantly (I'm big) the man slides over, takes the middle seat and I get the aisle. Lots of leg room, plenty of space for my shoulders. Happy.

&nbsp
5PM Central: Arrived safely in Nashville, TN.&nbsp
I may have missed some of the punditry on the new Google Web Accelerator offering, but the paranoia seems to have a blind spot. People are justifiably worried about Sergey and Larry knowing where they've been. But what about the other side -- content modification. What if Google decides to change the content as it's accelerating it? &nbsp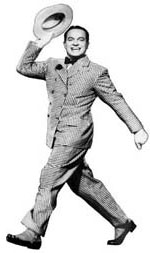 I cancelled my Audible subscription this morning. I hadn't used it in a few months yet was still paying the monthly fee. I stopped using it because both the computer I used to download books and the iPod I used to listen to them developed difficulties. I've replaced both the computer and the iPod but the Audible service doesn't transfer because of the DRM limits. I think they assume that I'm "stealing" the books. This has always been the problem with copy protection and nothing has changed. The same thing happened with the app I used to digitize CDs, and to record my podcasts. I had to buy new licenses just because I had a hard disk crash. I don't know who to blame, but I'm tired of footting the bill. No point continuing to pay Audible because I can't use their service. They won't let me. However I'll give them credit for making it obvious and easy to opt out. &nbsp
The University of Calgary has a What is Podcasting page.&nbsp
A brief essay about advocacy of XML formats.&nbsp
NY Times: "If you can just give up a Saturday night, there's a very small chance at it being the biggest event in human history."&nbsp
Last update: Saturday, May 07, 2005 at 12:50 AM Eastern.
Dave Winer


Apr Jun