| | |
| --- | --- |
| | Wednesday, June 15, 2005 |
A hugely dramatic thunderstorm godcast, with an update on progress with the OPML editor, and a roadmap through next week. Only 11 minutes.&nbsp
A movie of the thundercast.&nbsp
I've been hearing rumors that Google is readying an iTunes-clone, based on RSS 2.0, and fully podcast-capable. Multiple sources on this one. &nbsp
A Seattle P-I cartoon that eloquently illustrates why we don't want to trust the technology leaders with our freedoms. &nbsp
eBay item: "You are bidding on an opportunity to accompany my 19 year old son and myself in a taxi from Chicago to Los Angeles! Sort of like a reality television show for podcasting."&nbsp
Today's sexy screen shot is a beehive of cacaphony of software development and instant outlining and bugs.&nbsp

I've posted a call for people to help us finish the development of the OPML editor, especially people who are doing OPML as part of directory editing in the podcasting community. I'm also interested in working with people who will be at Gnomedex, because we'll have a chance to talk about it face-to-face in a little over a week. Also, I'm not so much looking for people to find bugs, or request features, I know there are lots of bugs (I've been using this outliner for 17 years) and many possibilities (it's actually a platform for outlining apps), rather I'm looking for deal-stoppers, and people who will help new users when we open the gates to everyone. If you're the kind of person who likes to answer questions, more than find bugs or neat ideas (unless you want to fix them or implement them, heh) then I want you, later this week, weekend and early next week. &nbsp
Rogers Cadenhead: "Dave's trying to bootstrap an innovative new Internet technology and will relentlessly drag the rest of us along until we realize the potential."&nbsp
Bootstrap: "When engineers build a suspension bridge, first they draw a thin cable across a body of water. Then they use that cable to hoist a larger one. Then they use both cables to pull a third, and eventually create a thick cable of intertwined wires that you can drive a truck across."&nbsp
The Music Bakery "specializes in royalty free music."&nbsp
Really Simple Groupware
I've not heard a better description of Instant Outlining.
"Really Simple Groupware."
That just about captures it.
However, group editing of a shared outline is not, imho, a problem that anyone knows how to solve, nor is it a problem that anyone has.
In the last couple of days the To Do list on the OPML Editor has really gotten short, most of the stuff that's on it is now is reviews of things, and I'm knocking those off the list pretty fast.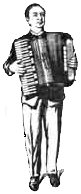 The Mac version is stalled, I'm looking for a Frontier programmer who knows MacBird and can even go into the kernel to debug. I really want Dave Luebbert working with me on the check out of the cross-platform functionality.
Many people don't know that this is built on the GPL release of Frontier that happened last summer. The outliner itself entirely open source. The applications, at this time, are not (although full source is provided, meeting some people's definition of open source, but certainly not the technical definition). My intention is to release all of it under GPL, and offer commercial redistribution licenses if people want them, a la MySQL, which imho is a very rational system for open source. I didn't get it at first, but when I did I knew it was for me.
Anyway, I'm expecting that we will broaden the test group before the weekend, but not release a public beta (or maybe not so beta) either at the beginning of Gnomedex or shortly after I get back. It depends on how self-supporting the product is, and the community.
This time, I'm not even going to be on the support mail list, so in the next round of testers I'm looking for people who love to help define communities, and support new users, and who have experience with outlining.
Long term, I'm hoping that the user community here will inspire a developer community to form around the open source kernel. To me this is the dream. Outliner users are the smartest, nicest people on the planet. Their eyes sparkle they're so bright and turned on. I want the geeks to meet these people, and become part of their community. That's the itch I want to scratch. Users and developers party together. Really simple groupware. Right on.