| | |
| --- | --- |
| | Tuesday, November 01, 2005 |
Today's Morning Coffee Notes podcast explains what Microsoft and/or Yahoo could do to change the game on Google. &nbsp

7:30PM: I'm back home, time to get a bite to eat, then I'm going to write up today's Microsoft event, or maybe do a podcast. But first I wanted to say, they're getting away with murder on Memeorandum. Part of the reason may be that the net went down halfway through the presentation, just as they were getting to the demo, which was a total wipeout, biggest failure I've seen in almost 30 years in the biz. I think there's a pretty good chance they cut off our net access so we couldn't write about it real-time, if so, it was a brilliant move, but an act of desperation. Or maybe they got lucky. Whatever, their announcements today leave some room for real game-changing on Google, which needs to happen, asap, before the opportunity goes away. We need Google to get some serious competition, and Microsoft is one of the places that can come from. (Apple and Yahoo are the others.) But they're going to have to do much more than they did today.&nbsp
Rich Karlgaard: Broadway Joe Was A Blogger.&nbsp
Microsoft is totally dominating Memeorandum.&nbsp
Niall Kennedy took excellent photos.&nbsp
The net went down in the middle of the demo. It was the worst public demo ever. &nbsp
An hour into it they finally start the demo. The screen is blank, the guy is talking. It's live.com. The demo didn't work. A total demo disaster.&nbsp
Doesn't work with Firefox. Screen shot. &nbsp
Ray Ozzie's talk began pretty exciting, but the gist of what he was talking about is basically what people call Web 2.0. Like Tim O'Reilly's initial description, they leave out RSS too, even though most of their mission is the mission of RSS. I wonder how many people in the room have spotted that. &nbsp
Looking around the room I see a few people reading the web while they talk. &nbsp
Todd Bishop from the Seattle P-I is also live-blogging.&nbsp
Dan Farber is also live-blogging this event. He's typing furiously, I think he's getting almost every word!&nbsp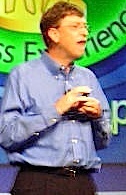 Bill Gates giving opening remarks at the SF event. The free wifi here is very good, provided by Microsoft. No power at the tables though, I might not be able to blog the whole event. I am doing an MP3 of the event on my Archos.&nbsp
He says today's event is like the events launching their Internet efforts in 1995, and the 2000 press event announcing dot-net and web services. He's used the term "live software" several times. It occurs to me that I'm blogging this press conference with live software. And you're accessing it while the conference is ongoing. That's pretty live too.

&nbsp
25 minutes into it, all we've heard so far is marketing hype. They haven't shown or said anything new yet. They need to read my How To Demo document. The people in this room are tough customers. &nbsp
Alex Barnett did a screencast explaining OPML. If he had hit the Refresh link at the bottom of the page in his last demo, it would have updated visibly. And the klooge at the end of his URL in my directory is so that my software would know that it's an inclusion. To get rid of this klooge, we're going to invent a new OPML nodetype. I'll be writing that up in a day or two. Anyway, it's great to see people getting the power of OPML. Now we just have (lots of) dust to clean up and a bunch of software to write, but that's the fun part!

&nbsp
The Bay Bridge from San Francisco in the morning.&nbsp
fyuze is a "personal information aggregator that automatically collects information from the internet so you don't have to."&nbsp
Scoble: "Isn't this yet another example of why Scoble should be fired for being negative on his own company?"&nbsp

Late in Y2K, Mary Jo Foley wrote a speculative piece about a Microsoft project called NetDocs, which was later cancelled because it came too close to cannibalizing one of Microsoft's two major cash cows -- Office. Interesting that her piece sounds very much like the speculation about today's press and analyst event in San Francisco.&nbsp
Another amazing observation about today's press event. A majority of the Old Farts Genius Network cabal will be present. We could really stink up the place, but I, for one, plan to be on my best behavior. Hope they have good wifi. I'm bringing my iBook G4. Maybe they'll give me a new sticker? I'd love to put a Microsoft sticker on my Mac. Somehow that's symbolic of how my mind works.

&nbsp
WSJ: "Google Inc. will resume scanning copyrighted library books into its search engine after a self-imposed hiatus, despite the efforts of some publishers and authors to block it from doing so without the copyright holders' permission."&nbsp