| | |
| --- | --- |
| | Saturday, December 17, 2005 |
7:50PM Pacific: Grettings from SFO.&nbsp
About interop between blogging tools.&nbsp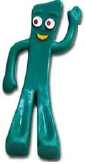 Mike Arrington has a report on a new API for Google Talk. A while back I had an application that required me to be able to connect to Google Talk from the OPML Editor, back then I couldn't do it, the interface was too complex (anything is possible of course, but not in the small amount of time I had). I look forward to giving this a try. I suppose it would be too much to hope that the interface is XML-RPC? Probably. Luckily I have good contacts to this part of Google, through Joe Beda in Seattle, so we should be able to figure this out pretty quickly.

&nbsp
A war between Gretna and New Orleans has broken out in the comments on Rogers' weblog.&nbsp
What's next, naked blogging at 30,000 feet?

&nbsp
Random idea: A Future-of-New-Orleans unconference would be very interesting. I would go. I keep finding myself wondering what the future of New Orleans is. I would like to get a group of experts and visionaries to speak about it. &nbsp
On the way to the airport I stopped for another look at one of my college houses, and there was an organized cleanup happening on the street. It was really something. I talked with some of the people. All local, but not all people from the street. All around the city on Saturday morning you could see people working on the cleanup. &nbsp
This woman was waiting at an uptown bus stop.&nbsp
2:20PM Eastern: Arrived in Atlanta. Long layover, flight to SFO is at 5:30. This is one of the best airports to get grounded in. Although the wifi costs money, there's a wide variety of fairly decent food, lots of places to plug in, and plenty of room to walk around to get the blood flowing. In contrast, New Orleans airport is a ghost town. Most of the gates have no planes at them, maybe four planes were parked at gates (there seem to be about 100 gates). It's quiet. Scary quiet.&nbsp
Cyril Neville: "A lot of things about life in New Orleans were a myth."&nbsp
NY Times: "Pavel invented the device known today as the Walkman."&nbsp