| | |
| --- | --- |
| | Wednesday, May 10, 2006 |
NY Times: "Microsoft bristles at being cast as a laggard."
Om Malik live-blogs Google Press Day, you can watch it yourself. Valleywag is also live-blogging.
TechCrunch: "If AIM Pages launched today as a stand alone company with no affiliation to AOL, I'd be ripping it apart."
Marc Canter: "It'll all be worth it. Once the ducks have lined up, the fat lady sings and the shit hits the fan." Quotable.
BloggerCon IV

Jay Rosen is on board for BloggerCon IV. It's shaping up in an interesting (and different) way. One track, two days. CNET's facility is smaller than Pound Hall and the building we used at Stanford in 2004, but it's also better equipped, there's a hotel next door and lots of restaurants within an easy walk. The weather should be pretty fantastic, not a concern as it was in 2004 at Stanford.
Google, Jesus & RSS
Google Trends "analyzes a portion of Google web searches to compute how many searches have been done for the terms you enter relative to the total number of searches done on Google over time."
With Google Trends you can see the growth of a terms like podcasting or OPML, in a nice visual way.
Interesting comparison betw blogs and podcasting. RSS is bigger than both.
But then podcast vs blogs shows something different.
Also interesting that in this view, Jesus is actually bigger than RSS, but not by much. Maybe Google should come to RSS? Okay, that's kind of a joke. Religion and RSS. Heh. Okay.

Of course Google blows away both Jesus & RSS.
Which raises the question that's on everyone's mind.
Steve Rubel thinks to compare Ballmer and Scoble. Heh.
Endless hours of fun await us!

Mickipedia & Me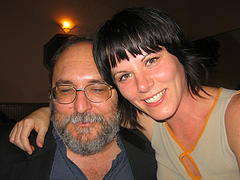 Mickipedia: The education of Micki Krimmel.
Sad moment
Sad news from the land of Scoble.