| | |
| --- | --- |
| | Sunday, May 14, 2006 |
Today's a travel day, heading to San Diego to participate in Mark Anderson's Future In Review conference.
Checking in from SFO, where I was able to buy a seat with more legroom for $24. It's a new protection scam by United Airlines. They made me an offer I couldn't refuse.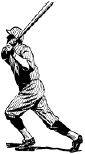 The next development project is a connection between NewsRiver and the Share Your OPML community server. I've written code that allows you to set up NewsRiver to automatically ping SYO when your subscriptions change. Of course, by default, this feature is turned off; and it's open, any aggregator will be able to connect its users to the SYO system in exactly this way. The code has actually been released, if you're using NewsRiver, you can poke around the Prefs system and turn it on. The SYO side of it hasn't been programmed yet, but hopefully that's coming soooon.

BBC: West Wing ends seven-year TV run.
Last update: Sunday, May 14, 2006 at 4:39 PM Eastern.
Dave Winer

Comment on today's
Scripting News
Community Directory

On this day in
Share Your OPML Top 100
OPML Editor Docs
Scripting News Archive
Open Irish Directory
TechCrunch reviews
MAKE Mag Feeds
Amyloo's community car roll
XML-RPC Directory
Tim Post's Tomorrow
LibriVox
News.Com Top 100
BloggerCon III Blogroll
Public Radio podcasts
iPodder.org directory
Memeorandum
DaveNet archive
Scripting News sites



May 2006

Sun

Mon

Tue

Wed

Thu

Fri

Sat

1

2

3

4

5

6

7

8

9

10

11

12

13

14

15

16

17

18

19

20

21

22

23

24

25

26

27

28

29

30

31
Apr Jun