| | |
| --- | --- |
| | Saturday, June 24, 2006 |
The room during the Core Values discussion.
A video of the hands of Doc, blogging the Video blogging discussion at BloggerCon.

The next conference on the Summer of Love Tour of West Coast Blogging conferences is hosted by Chris Pirillo, seen (making faces) in this movie during the video blogging discussion in the waning hours of BloggerCon IV in San Francisco.
The speaker's wiki. "A listing of speakers, their websites and affiliation, contact information, past speaking engagements and other important information to help conference organizers choose speakers to talk on important topics."

Amyloo: "Technography is a revelation to me."
Phil Jones: "Good software creation, like any other creative activity, requires a deep knowledge of the nature and constraints of the medium."
Wired: BloggerCon Boosts the Blog Boom.
Nick Bradbury: "What I'd like to see at a future BloggerCon (or Gnomedex) is an open, respectful discussion between users and developers. Even though public speaking terrifies me, I'd still be willing to moderate a session between users and developers if it would make the discussion less adversarial."
Notes from Day 1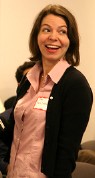 Things that worked: The song, wifi, air conditioning, signage, lunch.
All the DLs and monitors were awesome. The right people showed up, the right people stayed home.
Phil Torrone was every bit as good as I imagined he would be, esp given that this was his first BloggerCon, Jay Rosen who now is officially the only person aside from me who has been to all of the Cons, was of course, a monster super star.
Chris Pirillo and Niall Kennedy had the hardest sessions, which didn't go the way I hoped they would, but then I've learned that my expecations aren't what's important. That's a basic life lesson. Niall was a hardass with people who tried to cross the no-commercial line, and was a hardass with me, and I apologized for not respecting him well enough.
The smoothest session was also the riskiest, Lisa Williams kept the Emotional Life session going along. And I got to play technographer while Doc led a discussion asking people to ask how we're changing the world.
Special hat tip to the BlogHer people who added so much to Day One. And of course, thanks for the incredible support from CNET, esp Marianne and Jason, who did a great job of producing the show, kept the mikes working, the music playing, and kept us on time.