Tomorrow begins the year we decide who won the Long Bet between weblogs and the NY Times.
The Rolling Stones sang Time Waits for No One.
EngadgetHD: "The 'plug and play' approach that has become quite common on today's electronics didn't work out so well with HDTVs, leaving customers baffled that their TV wouldn't magically display the clean, crisp imagery they viewed on the in-store displays when making their purchase."
Mike Arrington asks what is a weblog?
I wrote a piece on this subject in May 2003.
I tripped over two new (to me) NY Times podcasts today. One of my favorite columns in the Sunday Times is The Ethicist. Now it's available in a podcast. And they have a podcast of a selected op-ed piece from behind the for-pay wall.
Al Jazeera report on Saddam Hussein execution.
Doc Searls, wordsmith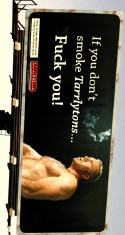 Is "wordsmith" a word? Not sure, but if anyone qualifies as one, it's Papa Doc. (Postscript: It is a word.)
This piece, about DRM, is exquisite in its imagery, in its wordsmithery, and accurate.
However, I don't agree with Doc's recommendation for technology.
Any software whose purpose is to copy-protect data, will fail. This is a simple corollary of Murphy's Law, which isn't just a joke, it's a law of nature. Engineers have to learn this in designing systems. It's one reason users get so pissed off when copy protection schemes interfere with their ability to use products in the way they were intended to be used.
For example, I bought a copy of Windows XP to install over some bits that had gone bad on an IBM ThinkPad. As I was installing the software, it told me I would have to first uninstall it on another system it believed I had already installed it on. Now, I couldn't do this, of course, because the software was wrong, I hadn't installed it anywhere else. So here I am, almost $200 poorer, hoping to have a good user experience, and getting ready to call for help, a misadventure all of its own. Never did get the software working on the laptop. Microsoft has my money, I have nothing. If I want satisfaction I'm going to have to put more than $200 of my own time into getting it. Never mind. Lesson learned. No more copy protected operating systems for this user. I don't care how much of my rights they've taken into consideration. I don't trust schemes whose purpose is to lock me out of things I have a right to get into.
So Doc, if you're going to draft a set of rules by which customer-aware companies live, put NO DRM pretty near the top of the list.
Imho.

United Airlines almost didn't blow it
But they did.
When I was checking in on the web before going to NY, they offered the option of upgrading to first class for $250. Now that was too good to pass up. Only $250 to be treated better, to get a bigger seat, to be smiled at and cared for? It's a deal! On the way back, I expected to get the same offer, and take it, but they made it really difficult. Here's how.
First, I had to change the flight. Of course there's no way to do it via the web, I wish there were. I call the 800 number, and navigate through their automated system, knowing all the time that it wouldn't be able to handle it either. I pressed 0 for Operator a number of times, but that trick, which often works, was disabled. Remember that I was prepared to pay more to be treated better. Finally, I navigated to the place where it routes you to a person. They put me on hold, listening to recorded messages, but the connection had gotten really bad and I could only hear every third word. I wasn't sure if they were saying things I needed to hear, or if it was the usual idiotic advertisments. I stayed on the line. Finally, after waiting ten minutes, an Indian voice came on. Her name is "Annie." I could only hear every third word. I tried speaking loudly slowly and clearly. After repeating myself a few times I got off the phone, and checked my email. She had made the change, charged me $100, and I went ahead to the web site and spent the $250 to upgrade to first class.
But I realized, sheez, I wanted to pay more to be treated better, and in the end I paid more and wasn't. My time was treated as valueless. Second, not only did they save money by hiring a cheaper person in India, but they also cheaped out on the phone line! Even Skype would have been better than the system they were using. India may be far away, but don't they have good phones? They must be losing business this way. It sure didn't feel good.
Otherwise, the service was great, and I would say What A Deal were it not for this little bit of mess.
The Millennium U.N. Plaza Hotel
I promised the desk clerk at the Millennium U.N. Plaza Hotel that I would blog this and I am a man of my word.
When I checked in there, they asked for a photo ID. He said he was going to make a photocopy. I said I didn't want him to do that. He said it was a requirement, since the hotel was part of the UN. Not sure why or if this is true, but I've been asked for a photo ID going into office buildings in NY, and generally let them have it, but I was concerned in this case because they had also taken an imprint of my credit card. With these two piece of information, there are some delicate places they can get into.
If you're not worried about this, I think you should be. When you hear about schools and businesses losing hundreds of thousands of credit card numbers, it could be yours. I once had all my mail stolen. They eventually caught the people, and it was identity theft. I don't think they ever got access to any of my accounts, but they got banking records and credit card numbers. Since most places don't ask for driver's licenses, it's still thought of as a fairly good way to identify people. But not if you routinely give it to hotels and they enter it into their systems. Next time they lose a few hundred thousand identities, it may include drivers license numbers. If it's the Millennium U.N. Plaza Hotel that loses them, it will be include mine, because I let them photocopy my license.
If I hadn't, I would have lost the money I pre-paid for my room. The desk clerk promised that I would get the copy back when I checked out. However when I asked for it when I checked out they said I couldn't have it. I said that's the last time I stay at your hotel, he said fine. I said I'm going to blog it (I felt stupid at this point) and he said okay.
In my humble opinion, the Millennium U.N. Plaza Hotel in New York plays pretty loose with customer's identity information. I won't be staying there again -- a shame, because otherwise it's a nice hotel, reasonably priced, at a good location.