All the cable news networks are covering tonight are the two boys who were kidnapped in Missouri. Meanwhile, 70 people died today in one bombing incident in Baghdad. Barak Obama declared for President. The Scooter Libby trial started in Washington. Bush was interviewed on PBS.
This post on TPM clearly belongs in the War On Bush link list, which is starting to feel like a blog.
Scott Rosenberg's first book, Dreaming in Code, arrived in bookstores today.
Missing: Microsoft's iPod platform

Something that's remarkable to consider. As closed to developers as Apple is with the iPod and now the iPhone, it's pretty amazing that Microsoft, a company with a long tradition of offering developer platforms, hasn't managed to offer a product that's even worth considering by developers as an alternative to the non-existent option of producing software for Apple's mobile devices.
It's even more remarkable if you consider that Apple's product wasn't an early product and has been on the market for over five years. Plenty of time to catch up even if Microsoft was caught by surprise. Charles Fitzgerald, one of the few old-timers still at the MS used to say it was a "scrappy" competitor. I wonder what adjective Charles would use for the company today.
Techdirt: "Copying the technology is just one aspect to competing, and if the market is dynamic, by the time you catch up to whoever you're copying, they're way ahead of you."
From the mind of RSS
I have a strange bug in my CMS, it's so entertaining that I haven't wanted to fix it. Every so often it picks a random day and generates my RSS feed as if it were that day.
Today it picked 3/1/00, a day I had lunch with Tim O'Reilly and Dale Dougherty, in San Jose. While we were having lunch, Tim got a call from Jeff Bezos about patents. I even got a picture of Tim's side of the conversation. Like I said, it's a strange bug.

What does it take to get fired?
Washington Post: "The Pentagon yesterday disavowed a senior official's remarks suggesting companies boycott law firms that represent detainees at the U.S. military prison at Guantanamo Bay, Cuba."
To be clear, what the official did is a breach of everything that we hold sacred in our legal system. It reeks of totalitarianism.
I told you so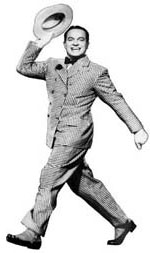 Scoble was wrong, I was right.

However, the newly announced Netflix service is lame. The same service is already available from Comcast, without the dumb limits, and I never use it.
It's another example of the movie industry's lack of will to compete.
Plus, my TV is a Mac, and doesn't run Windows software and I'm not going to switch when my settop box already does this and as I said, I don't use it.
However, all that said, Scoble was wrong to predict the death of Netflix. They have a bunch of momentum, and they understand their users, something none of the others, including Apple, can claim.
PS: For all we know Netflix is using the Verisign service that was supposed to, according to Scoble, kill them.