Podcast player
I'm still thinking about the ideal podcast player.
The features that matter most to me are:
1. Self-contained, untethered synchronization, much the same way a Blackberry gets email.
2. Read-write, two-way, should be able to record and connect with a publishing system for automatic upload and feed production.
3. Must be a platform, that is, people other than the manufacturer can add apps.
That's it, those are the three main features that PPs need and don't today have, imho.
Celebrating 10 years

I've now got an idea how to celebrate the 10 year anniversary of Scripting News, on April 1, just 38 days from now. It came to me after I got a note from a dear friend, Tori, who lives in Texas, who I haven't seen in (too many) years. She explained: "I was just catching up on your blog and saw the post about your surgery. Dude. I'm glad you're ok. I got goose bumps reading about Dave Jacobs' project. You and your friends change the world."
Now there's so much value in this email, for me.
First, I had no idea that Tori was reading my blog.
Second, it reminded me that Dave Jacobs is an amazing guy.
Third, it reminded me that I have amazing friends.
And fourth, and most important, it suggested that there may be people I haven't heard from in a long time who stay current with me through this site. Which is cool, but...
I want to know how they're doing! Too.

What's up. Had any kids? What have you learned lately? How's your health? The family? What are you thinking about these days. Been to any good parties? Gotten in trouble? (I hope.)
This connected up with a discussion I have been having with Sylvia, and with the Bloghers, Elisa, Jory and Lisa. I want everyone to write something, let's create a document on the 10-year anniversary of Scripting News, about anything that occurs to you that might in any way, no matter how loosely, relate to SN, blogging, surgery, Dave, podcasting, coral reefs and sunken ships, RSS, outlines, desktop art, thank you money, my friends -- whatever you think is important that might belong in a time-capsule-like document attached to this blog.
Sylvia tells me there is a name for something like this: festschrift. Of course there's a Wikipedia page.
http://en.wikipedia.org/wiki/Festschrift
To me, this would be the perfect commemoration, the ideal way to party in the ScriptingNews-o-Sphere.
What do you think?
Days to April 1
A 1-liner that computes the number of days to 4/1.
number (date ("april 1, 2007") - clock.now ()) / (60 * 60 * 24)
BTW, I like writing long posts in the airport in the morning.

Thanks Dan!
Photo: I was sitting in the Buena Vista bar at SFO this morning waiting for my flight and Dan Farber of ZDNet walked by. What a surprise! I invited him to join me, and we caught up.
Thanks Anil!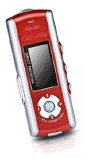 I like this piece he wrote about Evan Williams, because he includes me, among Williams, Jason Calacanis and Mark Cuban, as people with "Thank you money" and therefore can say what they think, without anyone telling them they can't.
That's very nice company indeed. I totally respect Jason, Mark, and Ev -- and I'm glad to see him put Odeo to rest so, honestly, we can get back to doing serious work on podcasting. I don't think he had podcasting in his blood, Twitter looks much more like an Evan Williams project. There I go telling you what I think again.

Podshow isn't right either. We don't need a record industry-like advertising agency in the middle of PodcastLand. It's not a good fit, although I understand why Ron Bloom, when he first looked at it, saw a combination of the record and advertising industries -- that's where he came from. Podcasting is much less rulable, it doesn't need a central entity like the one Bloom envisioned, or Odeo, or even Apple. What it does need is what I hope to talk about on Thursday in Boston at the public radio conference.
Dave Winer bio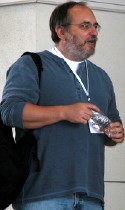 Dave Winer, 51, pioneered the development of weblogs, syndication (RSS), podcasting, outlining, and web content management software; former contributing editor at Wired Magazine, research fellow at Harvard Law School, entrepreneur, and investor in web media companies.
A native New Yorker, he received a Master's in Computer Science from the University of Wisconsin, a Bachelor's in Mathematics from Tulane University and currently lives in Berkeley, California.
"The protoblogger." - NY Times.
"Helped popularize blogging, podcasting and RSS." - Time.
"RSS was born in 1997 out of the confluence of Dave Winer's 'Really Simple Syndication' technology, used to push out blog updates, and Netscape's 'Rich Site Summary', which allowed users to create custom Netscape home pages with regularly updated data flows." - Tim O'Reilly.