Today's links
Happy 40th birthday to Nick Bradbury. He was born in the spring before the Summer of Love.
NY Times: "Bonds's impending achievement would normally have the sport in a congratulatory frenzy, except that many fans view Bonds's ascendancy as the signature event of the ignominious steroids era."
Two-word comment: "If Only."
Wired on results from Alexa on traffic at various blogs. At least they're honest when they say it's link-baiting.
Mike Shaver: "Why wouldn't you choose the web, given its record and power and openness?"
Great BBQ in Berkeley

Marc Canter will love this place if he doesn't already know about it. Wonderful home-style BBQ, all varieties. Been there twice so far, we've had baby back ribs, brisket and North Carolina-style pulled pork. All of it very well prepared, lean, very tasty. The hot sauce isn't too hot. The side dishes are prepared authentically. We had collard greens and cauliflower last night. At the table next to us, they had corn bread and macaroni. It's going to be a regular. Easy to get to, off the Gillman St exit of I-80.
Theodore Roosevelt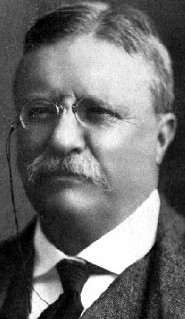 Retraction & apology
A couple of days ago, in documenting a misquote in a Business Week article, I theorized that the misquote was a result of "empty throwaway words that fill up all Business Week articles."
While the theory accurately reflects my state of mind, which is all it purported to do, it's unfair to say all Business Week articles contain this kind of misquote, or even most. I should have said that some Business Week articles do.
I apologize for this mistake. I believe they care about the quality of their publication, it was unfair to imply that they don't.
The last movie I saw in a theater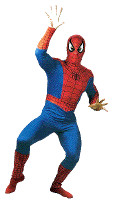 A few weeks ago I got a new sound system for my home theater. It makes a huge difference in the experience. I've been going back and watching old favorites to see what they're like now that the sound is better than the picture. I haven't found a way to describe in words how much richer it is.
My screen isn't as big as the screens in theaters, but the quality is much higher, and I sit 8 feet from the screen so in effect my screen is bigger.
Then early this week, went to see SpiderMan 3 at the AMC Bay Street, a relatively new theater, which should have the latest screening equipment. The movie had just come out, so it seems the print should be in good shape. This is the first time I've been to a theater seen since upgrading my sound system, and while I had always been impressed with the sound at theaters in the past, this time I was surprised to hear how bad their system is. The one I have at home is thrilling, theirs is mushy. And the film had all kinds of defects that I never would have noticed before, but now I'm spoiled by HD. However, even normal movies that I screen at home from an ordinary DVD are better quality than what they show at a theater. I wonder why?

One reason I mention this is to point out, in my own humble way, an opportunity for the movie industry, to turn theaters into fantastic movie-viewing venues, with the best equipment, cranked up for maximum effect. Honestly, I think they're going to have to do that to compete with the equipment that's making its way into the home these days. Sure I spent a fair amount of money on my setup, but if there's one thing we know for sure, the prices in home electronics go down very quickly these days.
Last update: Friday, May 11, 2007 at 9:52 PM Pacific.
Dave Winer, 52, pioneered the development of weblogs, syndication (RSS), podcasting, outlining, and web content management software; former contributing editor at Wired Magazine, research fellow at Harvard Law School, entrepreneur, and investor in web media companies. A native New Yorker, he received a Master's in Computer Science from the University of Wisconsin, a Bachelor's in Mathematics from Tulane University and currently lives in Berkeley, California.
"The protoblogger." - NY Times.
"The father of modern-day content distribution." - PC World.
"Helped popularize blogging, podcasting and RSS." - Time.
"RSS was born in 1997 out of the confluence of Dave Winer's 'Really Simple Syndication' technology, used to push out blog updates, and Netscape's 'Rich Site Summary', which allowed users to create custom Netscape home pages with regularly updated data flows." - Tim O'Reilly.
Dave Winer

Comment on today's
Scripting News
On This Day In: 2006 2005 2004 2003 2002 2001 2000 1999 1998 1997.
Apr Jun
Things to revisit:
Teller: "To discover is not merely to encounter, but to comprehend and reveal, to apprehend something new and true and deliver it to the world."