Saturday unconference in NY
On Saturday I'll be at the PDF unconference at the Pace University Student Union, One Pace Plaza, 10AM-6:15PM. It's open to the public, $35 for lunch, coffee, snacks & wifi.
I'll also be at the non-unconference on Friday, part of an incredible lineup of creative bloggers and technologists who care about democracy.
I return to California on Sunday.
PS: If you read Scripting News and are going to the PDF meetup on Saturday, could you sign up here on my wiki, so I'll have an idea of who's coming. Maybe we can have a special meeting just for this community.
PPS: MobileCamp NYC is on Saturday. I'll try to make it over there, I want to show off the NY Times River. It seems that NYers who are into mobile tech might find that interesting!
What is Yahoo up to with Flickr?
Read what Thomas Hawk says and give it a lot of credence.
Thomas has earned our respect. He says Yahoo is unfairly deleting stuff.
As a paying user of Flickr this is very disturbing to me!
Yahoo, please explain. Thanks.
Gotta say
It's good to see Les Orchard blogging again.
Photos from a morning walk in Rockaway Beach
Click here for more photos.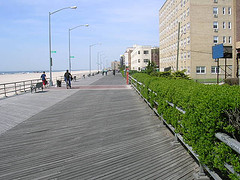 B. Mann loses it
He says he lost it when he read my post about federating Twitter last night. He says "Forget Twitter. It has a bunch of users, that's about it." And goes on to say someone should rebuild Twitter using Jabber.
But having a bunch of users is very important feature. You can't just skip over it as if it didn't matter, because imho it's all that matters. Jabber is a good technological foundation. But we've learned over and over that that isn't enough to get people to use something.
So many people who know technology think they know better than users. The trick is to forget that and just go where the people are. Jason wants to use Twitter. So do a lot of people. That's good enough for me.
Previous citation: Twitter as coral reef.
Life in prison for copyright infringement?
News.com: "Attorney General Alberto Gonzales is pressing the U.S. Congress to enact a sweeping intellectual property bill that would increase criminal penalties for copyright infringement, including 'attempts' to commit piracy."
Theory -- this is what the Democrats got to look the other way and let the Gonzales matter drop. Howard Berman, the advocate for the RIAA and MPAA, is on the House Judiciary Committee, and in general, the Democrats are the ones pushing for legislation on behalf of the entertainment industry.
Also, I have no idea what attempted infringement means, but it could mean visiting a site that has BitTorrents available for download.
The News.com article isn't clear about this, but apparently there are some infringements deemed so serious that the proposed penalty is life in prison.