Problem solved -- Readable websites on an iPhone
Scott Mace sent some advice that worked, that made it so that my example page looks good in Safari on an iPhone without the user having to adjust the resolution.
Open this page on the iPhone, you'll see it reads quite well.
If you don't have an iPhone, here's a screen shot.

The trick is to add a <meta> element to the page:
<meta name="viewport" content="width=320">
View source on nytimesriver to see how it works.
Here's a thread where this is discussed.
PS: The same page looks good on a Blackberry too.
Is Apple breaking my headphones?

Jason Kottke reports that you can hack up your "third party" headphones with an Exacto knife to get them to work with the iPhone.
Excuse me, but I like my headphones as they are, and the iPhone is a pretty lame iPod, crippled if you ask me, so I'll stick with my 60GB unit and hope that some other manufacturer gets their act together and teaches Apple some manners with their customers' money.
Can you imagine the meeting at Apple where they decided that they had the market power to force their customers to get new headphones! Such chutzpah.
Is Apple breaking the web?
If the iPhone were some little obscure thing then pages like this wouldn't be such a concern. Screen shot.
Viewing it by iPhone, it's an RSS reader, viewing this site, that's why it showed up in my referrers. Not clear why it can't be displayed in Firefox on my Mac laptop.
Attn TwitterGram devs
If you're working on the phone to TG connection, this new web service, twitterGram.newPhonePoast, simplifies the problem; makes it easier to implement the connection.
A picture taken with an iPhone
I keep forgetting that it's a camera too.
Click on the pic for the Flickr photo page.
iPhones that didn't activate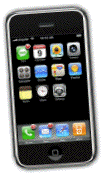 I was getting ready to do a podcast on why the iPhone is important and totally worth obsessing over, but maybe before we go there, we should take a look at this number.
According to an unscientific Engadget poll, 38 percent of iPhone users have not gotten their phones activated. An unactivated iPhone is useless, you can't enter numbers into the contact list while you're waiting, you can't surf the web over wifi, or watch YouTube videos or find out what the temperature is in Cupertino.
Steve Rubel is one of the 38 percent. And since he cancelled his Verizon account, he no longer has a cell phone. Not a good situation for a guy like Steve. He's in PR. (Steve writes: "I actually have a backup phone from Edelman but it's my personal phone that wa cancelled.")
Thomas Hawk's iPhone isn't working yet either. He describes waiting on hold endlessly with AT&T. Like Steve, his first memory of iPhone is going to be a wasted weekend trying to get started.
For what it's worth my activation went smoothly, took just a few minutes.
Rex Hammock: "Perhaps setting up a cell-phone account is a process, not a purchase."