Thanks to CNET & Apple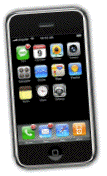 Thanks to CNET for the boost for nytimesriver, and thanks to Apple for putting the focus on mobile news sites. We're getting much more flow today, in one day, than we did in the last three months. Awesome. That's the power fo both CNET & Apple.
This is, imho, the best way to read news on a mobile device. And the Times produces so much great news. The iPhone and the Times were made for each other.
BTW, when you see the little speaker icon, that's a podcast. When you click, the audio plays. Works great on an iPhone. Think about how rational and futuristic that is.
And of course nytimesriver runs great on any mobile device, it was originally developed for my Blackberry.

Doc Searls on Steve Jobs in 1997
Seems like a good time to link back to Doc Searls' piece on Steve Jobs, shortly after he returned to Apple in 1997. "These things I can guarantee about whatever Apple makes from this point forward," Doc said...
1. It will be original.
2. It will be innovative.
3. It will be exclusive.
4. It will be expensive.
5. It's aesthetics will be impeccable.
6. The influence of developers, even influential developers like you, will be minimal. The influence of customers and users will be held in even higher contempt.
7. The influence of fellow business artisans such as Larry Ellison (and even Larry's nemesis, Bill Gates) will be significant, though secondary at best to Steve's own muse.
Up on Cripple Creek
Don Park writes to say "Adobe crippled audio recording in Flash so that bits from microphone are always sent directly to server-side *without* compression."
Last update: Thursday, July 5, 2007 at 4:37 PM Pacific.
Dave Winer, 52, pioneered the development of weblogs, syndication (RSS), podcasting, outlining, and web content management software; former contributing editor at Wired Magazine, research fellow at Harvard Law School, entrepreneur, and investor in web media companies. A native New Yorker, he received a Master's in Computer Science from the University of Wisconsin, a Bachelor's in Mathematics from Tulane University and currently lives in Berkeley, California.
"The protoblogger." - NY Times.
"The father of modern-day content distribution." - PC World.
"Helped popularize blogging, podcasting and RSS." - Time.
"The father of blogging and RSS." - BBC.
"RSS was born in 1997 out of the confluence of Dave Winer's 'Really Simple Syndication' technology, used to push out blog updates, and Netscape's 'Rich Site Summary', which allowed users to create custom Netscape home pages with regularly updated data flows." - Tim O'Reilly.
Dave Winer

My most recent trivia on Twitter.
Comment on today's
Scripting News
On This Day In: 2006 2005 2004 2003 2002 2001 2000 1999 1998 1997.
Jun Aug
Things to revisit:
Teller: "To discover is not merely to encounter, but to comprehend and reveal, to apprehend something new and true and deliver it to the world."