Today's links
Wired: See Who's Editing Wikipedia.
Dave Sifry is out at Technorati, John Furrier is out at PodTech. Wonder who's next?
Anne Zelenka suggests using Twitter for "people-powered search." I tend to use Scripting News.

Ted at Uncov explains why he doesn't have "the sunshine-up-your-ass San Francisco world view."
Great free wifi in the lobby of the Stanford Park Hotel in Menlo Park.
A sacred line
Today I got a brief note from Jason Calacanis requesting that I not mention him on my weblog. This requires a public response. The answer is no. Jason, you just crossed a sacred line. I decide what belongs on this blog. If I worked for you I would resign, just like the editor of PC World did, when they tried to control his editorial. Geez, I hope you don't do this to the editorial people who work for Mahalo.
Andrew Badera has a fair response to undue pressure.

The PC World editor resigned over an article entitled Ten Things We Hate About Apple. Management relented and the article ran.
At Mozilla today
I'm at Mozilla headquarters in Mountain View today, giving at talk in a few minutes, about RSS and blogging and Firefox. As usual, I'm going to talk for 10 or 15 minutes, just tell a story or two, and then ask for a discussion.
Today's talk came about from a random meeting with Brendan Eich at a party early this year. I had heard him once on a Gillmor Gang podcast, and found our philosophies more or less match.
Given recent experience I'm going to try not to be too critical, but I've been encouraged to be honest and direct. Yes, imho they have made some mistakes with RSS, but there are some really big opportunities here too.
BTW, if you're in the room at Mozilla, reading this, please cough three times so I know you're here.

The topics of discussion at Mozilla

| | |
| --- | --- |
| 1. | Integrating an aggregator. |
| 2. | Integrating a podcatcher. |
I am in favor of both #1 and #2.
I'll explain more about this tomorrow.
There are two sides to every story
A few years ago, along with a bunch of other bloggers, I was invited to a Microsoft event to discuss their search engine. Having been to many such Microsoft events in the past, I thought the format was they would talk, and then we would talk, and then they would talk and we'd talk and so on. So when it came our turn, I gave them a lot of ideas, I thought that most of them were pretty good, but even if they weren't, my intention was to help them.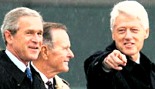 They were offended by this. I didn't realize it during the event, but found out afterwards, in kind of a roundabout way, I overheard a conversation between two Microsoft people saying some not very nice personal things about me. They knew I was in earshot, so I assumed they wanted me to hear this. I thought it was pretty cowardly, but it hurt anyway (I think that was the point, btw). It was a two-day event, so the second day I didn't say anything. I hoped that would make up for all the talking I did the day before. Apparently it did not, because they are still repeating the story of how I hurt their feelings a few years ago.
If I had it to do over again, knowing how they were going to use this against me, I wouldn't have even gone. They didn't pay me to give them my ideas. Such consulting would usually bill for $10K or even $25K a day. I didn't ask for any money. That was a mistake too, because I've learned big companies don't value things they get for nothing.
However, my experience with Microsoft up till then was that it was a very expressive culture. I had been in meetings with execs at the company where they talk, very loudly and personally, for very long periods of time. Often at each other. Often angrily. The culture is led by two fairly angry people, Bill and Steve. I never minded this, btw. Being from NY, I like it when people are direct and tell you what they think. Much better than the west coast way, where you often have to guess.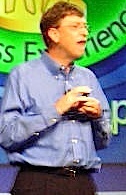 Going into the search engine meeting, I didn't know the Microsoft culture had changed, that they had become so sensitive.
For me the events are long-gone, but now, whenever someone has a complaint about me, whether justified or not, someone from that group, maybe someone who isn't even at Microsoft anymore, sends a back-channel message, and all of a sudden it's a big issue again. It happened this week with the Calacanis incident, another "event" that's probably going to haunt me for the rest of my days. (Thanks Jason.)
Anyway, the headline is my point. Really, in this case, they should have said something up front. "Our culture has changed, and now we would appreciate it if you sit in the room and say nothing and listen to our talk. When it's done, you may ask questions, or tell us how much you like it. Then we will feed you and you may go home." Had they said that, I would have just left, because that's not what I do.
Now, since this is my blog, and the rules are that I say what I think here, let me say that there's something really obnoxious about a culture that penalizes people for trying to help them.