Twitter makes Flickr more useful
I've finally got the bugs worked out of the Flickr-to-Twitter agent (knock wood). I now feel confident as a user that when I post a picture to Flickr it won't unleash a torrent of old Flickrs on my unsuspecting Twitter followers (up to 1900 now). Because of that, I'm willing to use the feature more often.

So when I go out for a walk, and see a lovely tree with red flowers, I take a picture, route it to Flickr, my iPhone upstreams it, my agent notices it, posts a tweet, and then 80 or 100 of my followers (awful terminology, btw) click the link before I'm home. In real-time, their eyes and minds have taken the walk with me.
This is one of those rare moments, when something works, and now my use of computers reaches a plateau that makes total sense. I call this feeling Living In The Future. It's the nicest feeling technology can deliver, and it's one important reason I like playing with these toys.
The other reason it's a significant futuristic feeling is that to make this work, I needed to use two web services, from two companies. Because they support standard technologies (email and RSS) and have blazed new trails (Twitter's API) a mere user (me) can bridge the two in a couple of hours as a proof of concept, and fairly debug it in a couple of weeks. In other words something is working on a broader level. These two companies are to be applauded, and encouraged to find more ways to help users make themselves happy.
And look at how the newcomer, Twitter, made the old standby, Flickr, so much more useful. Now I have a way to link a network that I've already created into something cool on Flickr. And as a benefit, Flickr has a discussion feature, so it provides an easy way for me to get to know people who are subscribed on Twitter, and of course for them to get to know each other.
All around good show, lots of win-wins, technology working for people.
New: If you want to see the pictures of all Flickr-to-Twitter users, follow this Twitter account.
Easy 'tinyurl' for OPML Editor users
A script for the "custom" menu in the OPML Editor.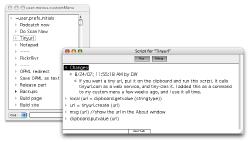 Scanned page from AT&T phone bill
Click the pic to see the bill page.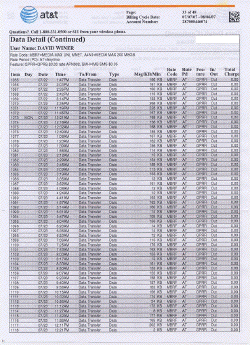 Last update: Friday, August 24, 2007 at 6:28 PM Pacific.
Dave Winer, 52, pioneered the development of weblogs, syndication (RSS), podcasting, outlining, and web content management software; former contributing editor at Wired Magazine, research fellow at Harvard Law School, entrepreneur, and investor in web media companies. A native New Yorker, he received a Master's in Computer Science from the University of Wisconsin, a Bachelor's in Mathematics from Tulane University and currently lives in Berkeley, California.
"The protoblogger." - NY Times.
"The father of modern-day content distribution." - PC World.
"Helped popularize blogging, podcasting and RSS." - Time.
"The father of blogging and RSS." - BBC.
"RSS was born in 1997 out of the confluence of Dave Winer's 'Really Simple Syndication' technology, used to push out blog updates, and Netscape's 'Rich Site Summary', which allowed users to create custom Netscape home pages with regularly updated data flows." - Tim O'Reilly.
Dave Winer

My most recent trivia on Twitter.
Comment on today's
Scripting News
On This Day In: 2006 2005 2004 2003 2002 2001 2000 1999 1998 1997.
August 2007

Sun

Mon

Tue

Wed

Thu

Fri

Sat

1

2

3

4

5

6

7

8

9

10

11

12

13

14

15

16

17

18

19

20

21

22

23

24

25

26

27

28

29

30

31
Jul Sep
Things to revisit:
Teller: "To discover is not merely to encounter, but to comprehend and reveal, to apprehend something new and true and deliver it to the world."