Will 2007 be like 1984?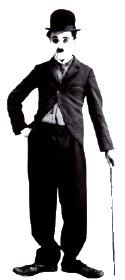 I followed the Apple event by refreshing the Engadget live-blog page, written by Ryan Block, who has a real talent for live-blogging. It's almost like being there, and in some ways better. Obviously you don't have to travel if you're just reading and refreshing. And you avoid the discomfort of being in a room full of reporters cheering and applauding the CEO of a company they cover.
Anyway, I don't really care about the new form-factors for iPods, or the reduced price for more memory, these are always expected (Moore's Law), and frankly I don't know how useful the upgrades could be to most people. Do people really have 40,000 songs they care about? (I have a feeling if they did, Steve would have had a slide that explained how everyone is clamoring for more space.) I have a 60GB iPod with video that I bought in the fall of 2005 that still works great, and has plenty of room. I also have an iPhone which has an iPod built-in, but I haven't gotten it to work properly as an iPod, and I've tried it on three of the Macs I own. No matter, the 60GB unit works fine.
The two features I thought were interesting were the interface to the music store and the interface to Starbucks. They are interesting if only because they illustrate so clearly that it's possible to get content onto the iPod directly, without synching, without tethering to a laptop or desktop computer. I think the users will love this, and it will quickly become the primary way music gets on the device. That's the good news. The bad? The music can only come from Apple. Oy. "It's Steve's world, we just live in it."

But there's more. Suppose Apple had never done the deal with AT&T and they were announcing the iPod Touch today. If they hadn't announced a deal with Skype or their own software to connect the new iPod to the phone network through wifi, we'd all be speculating about it widely. It would be the obvious next step. And suppose they had announced it. At the same time they could have said "Okay, we know wifi isn't everywhere yet, but 17 billion Starbucks outlets have them, and you can use your new iPod at every one of them to call anyone, for a very astonishingly low price." So intstead of propping up the old over-priced locked-down phone system, they'd be like the runner in the 1984 commercial, throwing the torch in the face of the oppressor. Defining a starting place, a coral reef of the first order.
If they were doing stuff like that perhaps I wouldn't feel so uncomfortable about all the cheering and applause.

Oh. One more thing. Maybe Google's phone will give us nirvana?? One can hope.

Last update: Wednesday, September 5, 2007 at 12:18 PM Pacific.
Dave Winer, 52, pioneered the development of weblogs, syndication (RSS), podcasting, outlining, and web content management software; former contributing editor at Wired Magazine, research fellow at Harvard Law School, entrepreneur, and investor in web media companies. A native New Yorker, he received a Master's in Computer Science from the University of Wisconsin, a Bachelor's in Mathematics from Tulane University and currently lives in Berkeley, California.
"The protoblogger." - NY Times.
"The father of modern-day content distribution." - PC World.
"Helped popularize blogging, podcasting and RSS." - Time.
"The father of blogging and RSS." - BBC.
"RSS was born in 1997 out of the confluence of Dave Winer's 'Really Simple Syndication' technology, used to push out blog updates, and Netscape's 'Rich Site Summary', which allowed users to create custom Netscape home pages with regularly updated data flows." - Tim O'Reilly.
Dave Winer

My most recent trivia on Twitter.
Comment on today's
Scripting News
On This Day In: 2006 2005 2004 2003 2002 2001 2000 1999 1998 1997.
September 2007

Sun

Mon

Tue

Wed

Thu

Fri

Sat

1

2

3

4

5

6

7

8

9

10

11

12

13

14

15

16

17

18

19

20

21

22

23

24

25

26

27

28

29

30
Aug Oct
Things to revisit:
Teller: "To discover is not merely to encounter, but to comprehend and reveal, to apprehend something new and true and deliver it to the world."