Scoble and Maryam sittin in a tree
Last night at 2AM, Maryam Scoble gave birth to a healthy 9 pound boy named Milan.
Scoble being Scoble, of course there's a Twittergram marking the moment, and some Flickr pics. And Maryam's seemingly endless labor was lovingly chronicled on Twitter itself.
Oh happy day!
Much love and a hearty mazel tov to the proud parents, his big bro Patrick and the newborn baby boy.
Mash Me Baby
I'd love to get an invite for http://mash.yahoo.com/ -- thanks in advance!

PS: I got one. Thanks!!
The newsroom for the blogging generation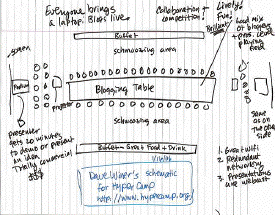 Click on the pic for more info.
On the calendar
Networked Journalism Summit, Oct 10, in NYC.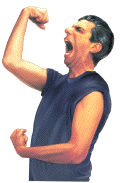 Jeff Jarvis: "The premise of all this is that even as journalistic organizations may shrink, along with their revenue bases, journalism itself can and must expand and it will do that through collaborative work. The internet makes that collaboration possible and we've barely begun to explore the opportunities it affords. A year or two ago, the point of such a meeting might have been evangelizing this idea. But in that time, a number of great projects in collaborative, networked journalism have taken off. So now is the time to share the lessons -- success and failures -- from these efforts and to determine what's needed to move on to the next goals. By bringing together about 150 practitioners from all sides, we hope that the meeting itself can spark new partnerships and projects."
Lunch with Loic Le Meur at T-Rex in Berkeley
More news in Scripting News
The RSS feed for Scripting News now has the last 20 items posted to the blog instead of just the posts for the most recent day. This means that if you read the feed in an app that more or less displays the contents of the feed (as opposed to the new stuff) you'll see more.
Last update: Friday, September 14, 2007 at 9:44 PM Pacific.
Dave Winer, 52, pioneered the development of weblogs, syndication (RSS), podcasting, outlining, and web content management software; former contributing editor at Wired Magazine, research fellow at Harvard Law School, entrepreneur, and investor in web media companies. A native New Yorker, he received a Master's in Computer Science from the University of Wisconsin, a Bachelor's in Mathematics from Tulane University and currently lives in Berkeley, California.
"The protoblogger." - NY Times.
"The father of modern-day content distribution." - PC World.
"Helped popularize blogging, podcasting and RSS." - Time.
"The father of blogging and RSS." - BBC.
"RSS was born in 1997 out of the confluence of Dave Winer's 'Really Simple Syndication' technology, used to push out blog updates, and Netscape's 'Rich Site Summary', which allowed users to create custom Netscape home pages with regularly updated data flows." - Tim O'Reilly.
Dave Winer

My most recent trivia on Twitter.
Comment on today's
Scripting News
On This Day In: 2006 2005 2004 2003 2002 2001 2000 1999 1998 1997.
September 2007

Sun

Mon

Tue

Wed

Thu

Fri

Sat

1

2

3

4

5

6

7

8

9

10

11

12

13

14

15

16

17

18

19

20

21

22

23

24

25

26

27

28

29

30
Aug Oct
Things to revisit:
Teller: "To discover is not merely to encounter, but to comprehend and reveal, to apprehend something new and true and deliver it to the world."