Nokia N800 arrives, finally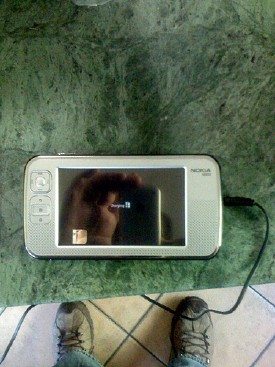 First impression is no impression at all.
So far they make Apple look very very good.
To paraphrase a Cadillac ad, when you turn your mobile device on, does it return the favor?
Apple, yes. Nokia, the jury is still out.

A couple of hours later, the battery is charged, but it's taking forever just to get it connected to the Internet. I have good wifi in the house, my laptops and iPhone use it all the time. The iPhone "just worked." Oy.
Oh the humanity. To update the N800 you need Windows, with v2 of the .NET Framework. Yeah, I have Parallels on my MacBook, but I recognize an invitation to lose huge amounts of time when I see one. For a $350 impulsively purchased toy (a week ago) this is turning out to be a huge pain in the you know what.
Media you can't trust
I saw most of the speech given on Monday by Iranian President Ahmadinejad at Columbia University. I also watched a lot of the coverage that night and the following morning by MSNBC and CNN, and I gotta say, they behaved shamefully, as badly as Lee Bollinger, the president of Columbia University, who introduced Ahmadinejad.
Transcript of the Ahmadinejad speech.
Video of the entire talk and intro. 1 hr 21 min.
Ahmadinejad came off as a gentleman, he had every right to be offended. Had I been in his place, I would have found it hard to give a speech after the intro Bollinger gave. And then the cable networks completely misrepresented what happened. It was beyond spinning, it was outright propoganda. It wasn't until Hardball that a reporter, Chris Matthews, talked about what really happened.
It's basic decency to the guest and to the people watching, that they not tell us what to think. It's a very American thing to let people make up their own minds. That Ahmadinejad was able to claim this as an Iranian value, when it was so clearly not an American one that day, was shameful to me as an American.
What if Columbia had maintained neutrality. Asked direct questions, accepted his answers and moved on. We got the tiniest glimpse of how revealing that might have been when he said that Iran didn't have homosexuality. The audience laughed as if he was making a joke (not in derision as the TV anchors reported). At first it wasn't at all clear if it was humor, his delivery was so straight, he seemed serious, but how could he seriously expect us to believe there were no gay people in Iran?? When it was clear he wasn't joking, it was a chilling moment. There it is, that's the face of despotism. Now we know, despite his protests, that we're still better than he is, I haven't heard the US government claim that there are no gays in America (but I have heard them say things approaching that level of dishonesty).
Had they just let Ahmadinejad speak for himself there would probably have been no need to hit us over the head with what they want us to think about him. But as it stands, that was the only clear thing he said at Columbia that wasn't basically reasonable.
His pitch: I come from a place that's far away from here. You sent your army to fight on our border. We don't like the Israelis because they mistreat the Palestinians who had nothing to do with the Holocaust (a far cry from saying the Holocaust never happened). It's pretty clear, although he didn't say it, that given a choice, he would like to see the Palestinian people rule the space now occupied by Israel (this is probably what they mean when he says he wants to "wipe" Israel off the map). So, that's not our position, but it's not really different from ours. The reality is that there are two peoples who claim that territory. So Iran is on the other side. That's not exactly front page news.
An aside, very few Americans know the role we played in overthrowing Iran's attempt at democracy in the 1950's. I recommend Stephen Kinzer's All the Shah's Men. For an overview, Chris Lydon did a podcast interview with KInzer in 2003.
We lose so much when we don't have the courage to listen to our foes. Some of my countrymen see it as a sign of weakness to listen, but they're wrong -- if we're sure we're right, what exactly do we have to lose by listening? Only if we're concerned that we might be wrong, should we fear listening, and then only if we want to stay wrong.
Look, I know I'm not going to convince any of the people who say that everyone who uses their mind is weak, but to people who like to decide for themselves, and want free speech for everyone, don't be fooled by what you hear on TV. They act as if they are owned by people who desperately want a war with Iran, and are willing to sacrifice American freedom to get there. Bollinger is clearly one of those people. And so do Time-Warner, Microsoft and GE (the owners of CNN and MSNBC). If not, then please do something about it, shake up the media so that we get to really discuss this, openly and fairly, before we start yet another ruinous war.
President Betray Us

Living in Berkeley we're always just a few degrees away from the MoveOn people. I hear they're really freaked about all the attention the General Betray Us ad got.
I think it's good and they should follow it with a new ad, maybe not in the Times. "Okay, maybe we shouldn't have called him General Betray Us." Not quite an apology, not quite a retraction, just food for thought.
The next ad would have a big picture of the President, with a big headline: "President Betray Us." More fodder for the talking heads.
And then a FAQ, listing just a few of the ways the president has betrayed us. Not exactly calling for an impeachment, but starting the process of moving on from Bush, about a year early.
There's nothing wrong with humor, and political humor is almost always vicious. If Bush whines too much, follow all this with an ad calling him a coward. "Mr. President, if you can't stand the heat, you could always resign early."
And then, after having cleared the field of Republicans (they'd all be running for cover, hoping their face wouldn't be on the next ad), you could start putting pictures of Democrats in the ads. Senator Betray Us, with a big picture of Harry Reid.
I think it's time for The Rest of Us to start flexing our political muscle.
I'm a gun-totin liberal, Republics betta watch out!

Dave
PS: We should start another campaign that every time the President calls the other party "The Democrat" party, we should give $10 to them. That'd get him to shut up quickly.