Visit at the NY Times

Today I had a visit at the NY Times with a couple of tech guys, got a tour of the newsroom and now have a fairly good idea of what's available on the Times site these days and got some pointers of places to look for interesting possibilities.
One of the intriguing spots was this blog...
http://open.blogs.nytimes.com/rss2.xml
"A blog about open source technology at The New York Times, written by and primarily for developers."
This is something new.
"All the code that's fit to printf."
I had noticed that the Times has some pretty rich metadata. Do a View Source on any story. Wouldn't it be cool if that data were included in their RSS 2.0 feed? The category element is designed for exactly that kind of data. And I wondered if there is a master taxonomy somewhere. I'd love to see it.
Anyway, this is just the beginning of a conversation. Derek and Jacob have their hearts in our world, and even though the Times still feels as if it's "over there." Perhaps someday it may not feel so far away.
American Airlines ripoff
No two ways about it, American Airlines ripped me off.
The facts. My flight from Newark to Dallas was delayed by bad weather.
We were 1/2 hour late getting into Dallas. I only had 45 minutes to make the connection if we were on time, so I just had 15 minutes. I got to the gate for my SF flight with five minutes to spare. But the doors were closed, and they had given my seat away.
Now, in their computer, they knew I was coming. Why did they give my seat away? I guess they were betting that I wouldn't make it. Seems they could have told me that before I pushed it to get there with 5 minutes to spare.
Then the guy behind the counter told me I could standby on the next flight, in three hours. No guarantee I'd get a seat. I have a lot of miles on American. I choose to fly American because they treat me well, probably because of all the miles. But it's at times like this, when they treat me like garbage, that I see how it really works. Rather than take the chance of flying with an empty seat, they gave my seat to someone else.
I went down to the Admirals Club and called their 800 number and was treated well, but I knew I couldn't make a seat appear tonight. I'm staying in Dallas tonight, paying for it myself (they wouldn't pay), they got me on the first flight to SFO tomorrow morning. Not standing by.
But it doesn't change the fact that they gave my seat away while they knew I was trying to get to the gate, and I was only late because their flight was late. Miles or no miles, I think my good feelings for American are finally gone (it's not the first time I was told to go to hell by the airline, btw).
New York's Finest (and friends)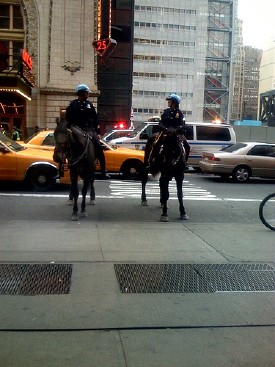 Click on the pic for detail.