Yo Valleywag
Kind of amazing this pic hasn't shown up on Valleywag, given their obsession with Scoble.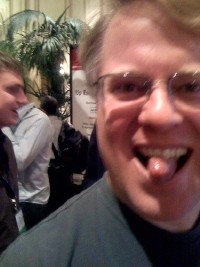 Creative Commons -- attribution, share-alike license.
Sore Wii arm
I love Wii bowling.
My arm and shoulder are sore.
There must be good exercise games for the Wii.
Got any recommendations?
Davos Envy
I noted that Mike Arrington is going to Davos this year. I know another blogger who got an invite (not sure if he wants me to say). Now I wish I was a little less fame-averse. I had a great time in Davos in 2000. I'd love to go again. Oh well.
The official answer: I wouldn't go if they invited me. If you believe that, I have a nice bridge to sell you. Cheap!
Fandom on Facebook
I became a fan of the NY Times on Facebook.
This is very interesting!
I should have a fan page for Scripting News.
Wonder how to do?
I took their news quiz, got all the answers right. They said I guessed, but I didn't, I knew all the answers.
Truth be told you don't have to read the Times to know these things. I got the answers from watching Countdown a couple of nights this week.
Last update: Saturday, November 10, 2007 at 10:12 PM Pacific.
Dave Winer, 52, pioneered the development of weblogs, syndication (RSS), podcasting, outlining, and web content management software; former contributing editor at Wired Magazine, research fellow at Harvard Law School, entrepreneur, and investor in web media companies. A native New Yorker, he received a Master's in Computer Science from the University of Wisconsin, a Bachelor's in Mathematics from Tulane University and currently lives in Berkeley, California.
"The protoblogger." - NY Times.
"The father of modern-day content distribution." - PC World.
One of BusinessWeek's 25 Most Influential People on the Web.
"Helped popularize blogging, podcasting and RSS." - Time.
"The father of blogging and RSS." - BBC.
"RSS was born in 1997 out of the confluence of Dave Winer's 'Really Simple Syndication' technology, used to push out blog updates, and Netscape's 'Rich Site Summary', which allowed users to create custom Netscape home pages with regularly updated data flows." - Tim O'Reilly.
Dave Winer

My most recent trivia on Twitter.
On This Day In: 2006 2005 2004 2003 2002 2001 2000 1999 1998 1997.
Oct Dec
Lijit Search
Things to revisit:
Teller: "To discover is not merely to encounter, but to comprehend and reveal, to apprehend something new and true and deliver it to the world."