Still fumbling around with Flickr

After spending most of yesterday trying to understand what was going wrong with the Flickr API, I decided to look in a different direction and tested the uploading code, and it didn't work either, so I posted a note on the yws-flickr mail list, hoping that someone else would have an idea how to proceed. A few minutes later John Watson posted a suggestion. I haven't tried his workaround yet, but I will, probably after lunch.
Don Park is having the same problem with his Flickr app.
Finally, we (seem to have) solved the problem. Thanks to Don and John for their help. Here's a screen shot of the routine that implements the technique we're all using. Basically it now takes more time for the data to move around on the Flickr side. Is this breakage? Hard to say -- it is communication software, so you have to be prepared for latency and packets getting dropped. It did used to work. So it's both breakage and more robustness was required on our side. It just shows how sensitive these systems can be, and of course that they used a fancier method for security, that is safer, but also more fragile. There are always tradeoffs, that's one of the constants of computer system design.
Berkeley hills path on a sunny November afternoon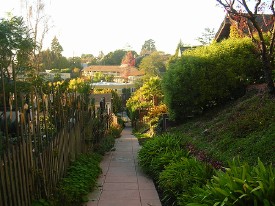 Last update: Tuesday, November 13, 2007 at 8:01 PM Pacific.
Dave Winer, 52, pioneered the development of weblogs, syndication (RSS), podcasting, outlining, and web content management software; former contributing editor at Wired Magazine, research fellow at Harvard Law School, entrepreneur, and investor in web media companies. A native New Yorker, he received a Master's in Computer Science from the University of Wisconsin, a Bachelor's in Mathematics from Tulane University and currently lives in Berkeley, California.
"The protoblogger." - NY Times.
"The father of modern-day content distribution." - PC World.
One of BusinessWeek's 25 Most Influential People on the Web.
"Helped popularize blogging, podcasting and RSS." - Time.
"The father of blogging and RSS." - BBC.
"RSS was born in 1997 out of the confluence of Dave Winer's 'Really Simple Syndication' technology, used to push out blog updates, and Netscape's 'Rich Site Summary', which allowed users to create custom Netscape home pages with regularly updated data flows." - Tim O'Reilly.
Dave Winer

My most recent trivia on Twitter.
On This Day In: 2006 2005 2004 2003 2002 2001 2000 1999 1998 1997.
Oct Dec
Lijit Search
Things to revisit:
Teller: "To discover is not merely to encounter, but to comprehend and reveal, to apprehend something new and true and deliver it to the world."