New app, day 2

This landing page is part of the new app that I'm working on, which is a tool for subscribing to and downloading podcasts, otherwise known as a podcatcher.
When you set a pref in this app, links to new podcasts are posted to a Twitter account as they arrive, so that people you know can know what you're listening to, and may choose to listen themselves. There's a place to comment, of course.
The cool thing about it, I think, is that if you share a podcast and I do, they both point to the same landing page, so our communities intermix based on who liked that podcast. Who knows where this goes? But it's interesting, imho.
PS: Just as we had a cooool partner for the launch of the photocatching app, we have a surprise for the podcatching app too, and it's probably not what you think it is.
PPS: We're still hoping and waiting for Payloads for Twitter.
Happy birthday, Martin Luther King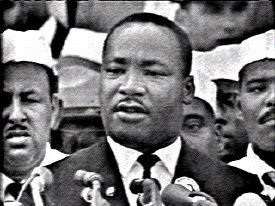 Mac fatigue
Initially I wrote in my keynotepost that I'd buy one of the new MacBooks for sure, then a minute later I selected the sentence, hit backspace and save. A commenter asked why.
Mac fatigue. 2007 was a fun year, I spent a lot of money on Mac stuff, and then found at the end of the year that they're a shit company that treated me like shit. Left a really ugly feeling, really sore about that.
So when I thought of all the extra expenses, a second battery (later: ooops, no can do), AppleCare, and then the likelihood that it was going to break, and then I'd be stuck waiting for a repair wondering where my data was going, I thought maybe I won't be so quick this time.
Also the fact that the stock market looks like it's about to crash probably contributed to the feeling. :-(
Steve Jobs keynote
I'm "watching" it from home.
A few minutes before it started someone on Twitter asked how long before the rate of updates on Twitter brought it down.
Well, it's down now (9:22AM).
I'm watching the updates on Engadget, far from an optimal experience. Somone ought to make live-blogging a bit easier on the reader.
So far he's announced "Time Capsule" -- a hardware device that backs up any Mac in the house over wifi. It's like a router with a hard drive.
The market is down, and so is Apple, almost 4 points at 175 at 9:30AM.
They've sold 4 million iPhones. As an Apple shareholder that makes me happy.
5 million Leopards. He quotes quotemills, Mossberg and Pogue.
Twitter is still down at 9:37AM.
Maybe they took the system down so they could demo it at Moscone without any load?
http://www.macrumorslive.com/ -- much better! Thanks!!

Movies on iTunes, this is what Netflix was worried about. Lots of questions. Only 1000 titles. 30 days after release on DVD. What's the quality? HD? I don't think Netflix has much to worry about, they have much more than 1000 titles (I think I've probably already watched 1000 movies on my Netflix account) and they get them the day they come out on DVD, and ahem, I have to say this, so does BitTorrent. Hollywood is still scared of the net. They didn't give a great deal to Steve, or so it seems.
Ahhh -- AppleTV 2.0. No need to synch with a desktop or laptop. Why don't they just sell the Mac Mini. Perfect product for the living room.
Community movie features. Just like Netflix.
Just checked Twitter at 9:52AM -- it's up.
More stuff about AppleTV. It's a software upgrade. Does pictures from Flickr and .Mac. That's good everybody, good. RSS everywhere.
At 10:05AM, Twitter is dead again.
I see they came out with a thin sub-notebook, MacBook Air.
drop.io/tradesecrets
Eleven days ago I wrote a blog post describing a call-in service that I'd like to use to create a podcast with my friend and fellow blogger Robert Scoble.
A new service (or one that I just became aware of) comes achingly close to doing what I want. Maybe it goes all the way there, but I've not seen how to do it.
First, here's how it works.
1. Call 646-495-9201 x 49763.
2. Talk.
3. Hangup.
There will be a new recording here.
Looks good!
But there are two problems.
1. The RSS feed doesn't have an enclosure, and even if you were willing to scrape the HTML there's no pointer to an MP3 file.
2. There's no pointer to an MP3 file on the landing page, although there appears to be one if you don't look at the HTML source. Tricky. It was enough to get Mike Arrington at Techcrunch to think it was there. I have a call into Mike to discuss.
A caveat, I am also in touch with the folks at BlogTalkRadio. I want this service, and we're close to having it now. drop.io doesn't go quite far enough, they clearly want to drive traffic to their site, and appear unwilling to let the MP3 out into the wild.
Interesting stuff!!
Update: I did a podcast with Robert and Patrick Scoble using drop.io. I was able to download the MP3, although it pretty well hidden, and upload it to my S3 account.