FlickrFan belongs in schools
Lance Knobel: "I'd install FlickrFan in every middle school and high school social studies class. I guarantee it would provoke endless discussion and ensure engagement in the issues of the day."
I totally agree. It would be great to see it at checkout lines in supermarkets and on kiosks in BART stations too.
Covering eTech in March
I'll be covering the eTech conference in San Diego in early March. It's been a few years, last time I went was just before my surgery in 2002. I'll be going as a blogger, not presenting. Many thanks to O'Reilly for approving the press pass. I look forward to catching up with many old friends.
Light posting
I have a juicy project I'm working on, a new source of great pics for FlickrFan. In the meantime Stan Krute did a new version of the Obama poster, to the right, with the "Progress" swapped out and "Make change" in its place.
Update: Jim Posner suggested the original was better, on reflection I agree, so I switched it back.
Last update: Tuesday, January 29, 2008 at 6:14 PM Pacific.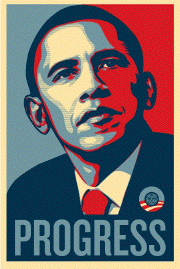 I'm a California voter for Obama.



Dave Winer, 52, pioneered the development of weblogs, syndication (RSS), podcasting, outlining, and web content management software; former contributing editor at Wired Magazine, research fellow at Harvard Law School, entrepreneur, and investor in web media companies. A native New Yorker, he received a Master's in Computer Science from the University of Wisconsin, a Bachelor's in Mathematics from Tulane University and currently lives in Berkeley, California.
"The protoblogger." - NY Times.
"The father of modern-day content distribution." - PC World.
One of BusinessWeek's 25 Most Influential People on the Web.
"Helped popularize blogging, podcasting and RSS." - Time.
"The father of blogging and RSS." - BBC.
"RSS was born in 1997 out of the confluence of Dave Winer's 'Really Simple Syndication' technology, used to push out blog updates, and Netscape's 'Rich Site Summary', which allowed users to create custom Netscape home pages with regularly updated data flows." - Tim O'Reilly.
Dave Winer

My most recent trivia on Twitter.
On This Day In: 2007 2006 2005 2004 2003 2002 2001 2000 1999 1998.
Dec Feb
Lijit Search
Things to revisit:
Teller: "To discover is not merely to encounter, but to comprehend and reveal, to apprehend something new and true and deliver it to the world."