Pownce API 2.0, day 2
I've made good progress wiring up the OPML Editor to Pownce, but I got stuck when it came to posting a media file.
The docs don't say how to encode the data of the file. I guessed that it would be base64-encoded, but it didn't work. If anyone has gotten this working, or knows how to do the encoding, please post a note here. Thanks.
BTW, this is the file I was testing with. It's nowhere near the stated file size limit.
Update: FIle-sharing in Pownce, explained.

Update #2: It works. Here's a file that I uploaded, you have to be a logged on and a friend of mine to see it. The key was using a multipart/form-data POST. Highly recommend that the API docs be updated to say just that. It's enough of a clue so that an experienced developer will be able to get it to work with no extra help. Okay I'm happy about this now, I've got payloads working from both ends, under program control. Next thing I'm going to push up to the cloud is a campaign conference call MP3. Good news, we have a partner, a huge media company that decided to work with the bloggers.
Update #3: Here are Pownce entries for today's Obama conference call and the Clinton call. You need to be signed into Pownce to listen in, and be a friend of mine. Just for this experiment. We'll have other ways to download conference calls soon (for example, an RSS 2.0 feed with enclosures).
Inquiring minds want to know!
Cryptically MikeA teases about something new from Om Malik. What is it my brother? We need to know. Now!
Update: It's a new blog about the business of open source.
Valleywag got a legit story, Mike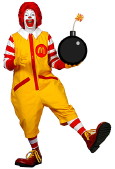 I posted a comment on a post on TechCrunch by Mike Arrington, re a Valleywag story about Jimmy Wales of Wikipedia.
Mike, I don't like Valleywag, but I think you're wrong in this case. They got a good story because Wikipedia, the publication that Wales runs, has rules that prevent people from editing stories they have an interest in. Wales was trading edits to Rachel Marsden's profile for sex. They got him, and had they left out the parts you don't like, it wouldn't have been clear that they did.
This is not only a good story, but it's an important one. Wikipedia, unlike Valleywag, is widely thought to be authoritative. Those of us it covers who are not friends with Wales know that it is far from authoritative. Both Valleywag and Wikipedia are pretty sleazy, imho, but Valleywag disclaims it, and Wikipedia pretends not to be.
Think about it this way, if we had the guts to challenge Wikipedia, if a glaring mistake was considered a problem in the tech industry, one of two things might happen: 1. They might clean up their act or 2. Entrepreneurs might launch competitive sites that fix its integrity issues.
Interesting comments on this topic on Silicon Alley Insider.
Yesterday: "Wikis are not enough."