IRC for Ohio/Texas returns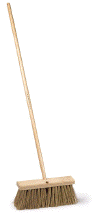 I started a chatroom for tonight's primaries.
irc://irc.freenode.net/#ohioTexas
5PM Pacific: Vermont declared for Obama, the rest are closed or too close to call.
Update: I'm predicting a sweep for Obama tonight. 4-for-4.
5:50PM: Clinton is calling an emergency conference call about "irregularities" in Texas. Okay, she didn't win Texas. Now comes the whining.
John W. McCain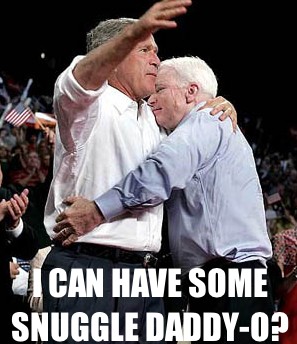 McCain loves him some baggage.
Technopeasant News
Things you would have learned if you followed me on Twitter.
Apparently, I am, according to Andrew Keen, a hippie, academic and peasant. Pretty accurate. I'm a technopeasant.
Andrew Keen once said I should get a Pulitzer.
m.pownce.com is very nice. If you've been overwhelmed by all the michegas in Pownce you might try this UI.
Me, I'm here for the politics and the raw unadulterated sex. :-)
Twitter doesn't have to implement what Pownce has, as long as Pownce is there. I'm no longer telling asking them to implement payloads.
Hillary is falling.
I have 579 friends on Pownce. (Update: 639.)
I'm not a Democrat. I don't believe that "we" have to win. I'm not part of that "we."
"Hope" is the right thing to be focused on, because normally, we are "hope-less."
Update: Francine Hardaway follows me on Twitter and confirms something a lot of people suspect. She's only seen half of these twits. She thinks Twitter eats these gems. If so that's very bad!
Jay Rosen interview
A 15-minute Skype interview with NYU journalism prof Jay Rosen about politics, journalism and blogging on "Telltale Tuesday."
Jay's PressThink weblog.
Comparing Twitter and Pownce for payloads
New development, now when I post a picture to Twitter from my iPhone, it also goes to Pownce.
A screen shot of the Pownce version.
A screen shot of the Twitter version.
We now can see, visually, the difference betw a messaging service that supports payloads and one that doesn't. Not saying one is better than the other, because this is still very much an exploration. But there are definite advantages to each approach. Please consider that before you beg anyone not to listen to anyone else.
Update: I quickly added fields to the flickrToTwitter page to flow pictures to Pownce in addition to Twitter. Screen shot.