From the Mind of Hugh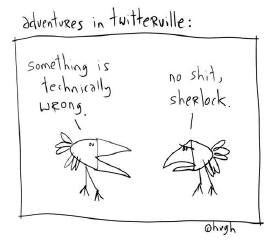 An open source Twitter client?

There have been a lot of back-channel conversations about the future of Twitter, and one subject that keeps coming up (I keep bringing it up actually) is the need for a Twitter client that isn't aligned with any commercial interest. One that, by design, is meant to serve users and users only. I think it's time to start a public discussion about this, not sure if there's interest among developers -- this isn't something I'd write myself. The only way to find out is to ask.
Jury duty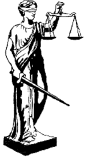 I got called for jury duty in Oakland.
They have wifi here but it's $5.95 per day.
Can you imagine, here we are doing our civic duty, taxpayers all of us, and they want us to pay to get online. It's a crime I tell you! Put me on a jury to decide this and I'll vote to convict.
I served on a jury in 1996 and wrote up the experience.
Update at 10AM: They called the first group, I was not in it. Is this good news or bad? (I'd rather not serve this time.)
Update at 10:30AM: I'm in the second group. Here we go. But we don't have to be here until 1PM. So now what? Oy.
Update at 10:45AM: All the group 3 people were excused. Envy.
Last update: Wednesday, May 28, 2008 at 6:27 PM Pacific.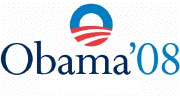 Dave Winer, 53, pioneered the development of weblogs, syndication (RSS), podcasting, outlining, and web content management software; former contributing editor at Wired Magazine, research fellow at Harvard Law School, entrepreneur, and investor in web media companies. A native New Yorker, he received a Master's in Computer Science from the University of Wisconsin, a Bachelor's in Mathematics from Tulane University and currently lives in Berkeley, California.
"The protoblogger." - NY Times.
"The father of modern-day content distribution." - PC World.
One of BusinessWeek's 25 Most Influential People on the Web.
"Helped popularize blogging, podcasting and RSS." - Time.
"The father of blogging and RSS." - BBC.
"RSS was born in 1997 out of the confluence of Dave Winer's 'Really Simple Syndication' technology, used to push out blog updates, and Netscape's 'Rich Site Summary', which allowed users to create custom Netscape home pages with regularly updated data flows." - Tim O'Reilly.
Dave Winer

My most recent trivia on Twitter.
On This Day In: 2007 2006 2005 2004 2003 2002 2001 2000 1999 1998 1997.
Apr Jun
Lijit Search
Things to revisit:
Teller: "To discover is not merely to encounter, but to comprehend and reveal, to apprehend something new and true and deliver it to the world."