New York is Hillary Country
When I arrived NY in mid-May, I asked the cab driver, a black man, who he voted for in the primary. He said Hillary. Of course, I thought. He said everyone in NY likes Hillary.
When I bought the NY Times today, thinking it would be a MEN WALK ON MOON type historic banner headline, I should have known they would play down the history of it, and play up the Hillary of it.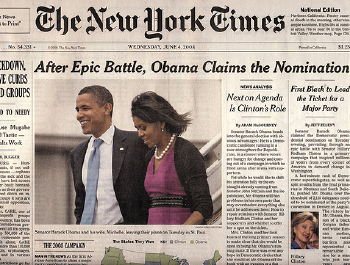 Click on the pic above to get the full extent of the Times' (lack of) historic perspective.
PS: The Chicago Tribune sees the history.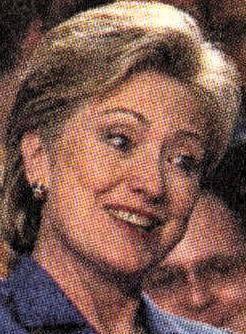 Yahoo Address Book API
This looks interesting, making a note here because I want to come back to this.
Is anyone building on it? If so, how's it going?
Why gas is so expensive
We're sending all the dollars we can print to China.
What do you think they buy with the dollars?
1. Cars.
2. Highways.
3. Gasoline.
4. Inflation (for us).
BTW, the Chinese "still live in an $80 per barrel oil environment," (thanks to government subsidies).
PS: This was inspired by a thread started by Steve Rubel on FriendFeed.
Last update: Wednesday, June 04, 2008 at 5:24 PM Pacific.
---

Dave Winer, 53, pioneered the development of weblogs, syndication (RSS), podcasting, outlining, and web content management software; former contributing editor at Wired Magazine, research fellow at Harvard Law School, entrepreneur, and investor in web media companies. A native New Yorker, he received a Master's in Computer Science from the University of Wisconsin, a Bachelor's in Mathematics from Tulane University and currently lives in Berkeley, California.
"The protoblogger." - NY Times.
"The father of modern-day content distribution." - PC World.
One of BusinessWeek's 25 Most Influential People on the Web.
"Helped popularize blogging, podcasting and RSS." - Time.
"The father of blogging and RSS." - BBC.
"RSS was born in 1997 out of the confluence of Dave Winer's 'Really Simple Syndication' technology, used to push out blog updates, and Netscape's 'Rich Site Summary', which allowed users to create custom Netscape home pages with regularly updated data flows." - Tim O'Reilly.
Dave Winer

My most recent trivia on Twitter.
On This Day In: 2007 2006 2005 2004 2003 2002 2001 2000 1999 1998 1997.
May Jul
Lijit Search
Things to revisit:
Teller: "To discover is not merely to encounter, but to comprehend and reveal, to apprehend something new and true and deliver it to the world."