Caught in Comcast's gears

Another Comcast user is nabbed for using too much of their service (top tenth of one percent). He doesn't use Twitter so he doesn't know how to get a human being in the loop. Hopefully this post will do the job.
They still have Nazis running customer service at Comcast. They really need to take a look at how they treat their customers. One of these days the customers are going to start caring and might even have choices.
Picture of the day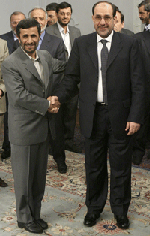 Now remind me, how many trillions have we borrowed to install and prop up the guy on the right?
And what were we told about people who talk to the guy on the left? (And they're doing more than talking, aren't they?)
Ask Bush or Lieberman what they see here.
What's the prize for "winning" in Iraq?
I'd love to hear the story.
It's like a Rorschach test.
Have some fun...
Put a thought balloon over Ahmadinejad's head.
What's he thinking?
MP3 of Olbermann's special comment
Here's an MP3 of Keith Olbermann's special comment tonight to John McCain, re getting out of Iraq.
Top-5 stories on NewsJunk.com
Last update: Thursday, June 12, 2008 at 7:53 PM Pacific.
---

Dave Winer, 53, pioneered the development of weblogs, syndication (RSS), podcasting, outlining, and web content management software; former contributing editor at Wired Magazine, research fellow at Harvard Law School, entrepreneur, and investor in web media companies. A native New Yorker, he received a Master's in Computer Science from the University of Wisconsin, a Bachelor's in Mathematics from Tulane University and currently lives in Berkeley, California.
"The protoblogger." - NY Times.
"The father of modern-day content distribution." - PC World.
One of BusinessWeek's 25 Most Influential People on the Web.
"Helped popularize blogging, podcasting and RSS." - Time.
"The father of blogging and RSS." - BBC.
"RSS was born in 1997 out of the confluence of Dave Winer's 'Really Simple Syndication' technology, used to push out blog updates, and Netscape's 'Rich Site Summary', which allowed users to create custom Netscape home pages with regularly updated data flows." - Tim O'Reilly.
Dave Winer

My most recent trivia on Twitter.
On This Day In: 2007 2006 2005 2004 2003 2002 2001 2000 1999 1998 1997.
May Jul
Lijit Search
Things to revisit:
Teller: "To discover is not merely to encounter, but to comprehend and reveal, to apprehend something new and true and deliver it to the world."