Knol is Google's Wikia

Wikia is Jimmy Wales' dream of doing to Google what Wikipedia did to Britannica. Unfortunately for Wales and his investors, Google had a 10-year lead, and a huge ecosystem had been built up around it. Google is a thriving coral reef, and one doesn't just show up one day with an idea and compete with an ecosystem. That's why Wikia didn't, and isn't likely to work.
It's amazing how balanced the arrogance is, because the same thing that makes it so hard for Wikia to gain on Google is going to make it virtually impossible for Google to catch Wikipedia with Knol.
The thinking is likely just as superficial and greedy as Wales' hypothesis that the approach that could unseat Google is the secret sauce that makes Wikipedia work, as if that had anything to do with Wales. It doesn't, anymore than Google needs Larry and Sergey to keep on rolling as a coral reef ecosystem. See, Wikipedia is a coral reef too, and you don't just open shop one day and think that because you can drive flow into your version of Wikipedia that the coral reef will magically assemble on your plot of ocean bottom. Instead what you attract are spammers, as Duncan Riley observes in his writeup on Inqisitr earlier today.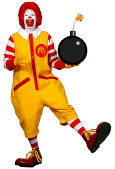 Google is going to keep being the coral reef for search, and Wikipedia is going to be the coral reef encyclopedia. Ironically, Knol probably would have fared better if instead of having the appearance of Google tilting the table in its favor, search engine-wise, they had put something in its robots.txt file that kept the Google crawler away, so that the opportunists would have stayed away too. That would have given them some time out of the spotlight to build up some real momentum, giving it a chance to compete with Wikipedia. Not sure what Wikia could have done, the idea seemed doomed from the start, because search isn't like a Wiki, and human-authored search results are something of a contradiction.
Random stufffff

Via Doc Searls, Google runs a registrar, without the gunked-up cross-selling choked process of other registrars. I've gotta try this out, I'll transfer one of my domains there.
I added VMWare Fusion to my Amazon wishlist last night, just as a reminder to myself, and this morning got an offer for a review unit from a product manager there. I accepted, of course. It'll make it much easier for me to prepare the Windows version of the OPML Editor, and of course I will write about it here, exactly as if I had paid for it. (I installed the Beta of v2.0.)
It's really cool that Amazon wishlist items are reflected on FriendFeed.
Wasn't last night's season premiere of Mad Men fantastic!

Fred Wilson thinks blog comments should make it on TechMeme. It's true that some comments are better than many blog posts, and I check TechMeme several times a day, but I'm hoping we escape the grips of centralized thinking and remember that what made blogs work was that everyone gets their own platform to speak their mind. TechMeme takes us back to the place that didn't work, where everyone fights for scarce attention. Aside from that, as Wilson notes, TM has made its mind up about us, relative to others, and what's important, vs what's not. (To which I add we're the sentient beings, and TM is a piece of software. What irony that we care what something that is incapable of thought thinks. We'll wait a long time for recognition that way!)
Disabling Sprint interference with wifi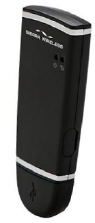 I posted yesterday, in desperation: "So far I love the Sprint 3G EVDO modem. Works great on Mac and Windows, no install CD, comes built-in. But... It takes over my wifi configuration on XP, keeps popping up dialogs that don't mean anything to me (and there's no reason for them, everything's working)."
The 3G Store support staff provided the answer.
To disable the Sprint SmartView as your default WiFi utlility:
1. Open SmartView.
2. Click Tools.
3. Select Settings.
4. Choose the Client tab in the settings window
5. Un-check Use this tool as my default WiFi Management Utility.
6. Click OK.
The screen on the Asus EEE PC is very short, so the OK button was hidden under the Taskbar at the bottom of the screen. If you right-click in the taskbar, choose Properties and uncheck Keep the taskbar on top of other windows you'll see the OK button so you can click it.
After that, whew, the normal Windows way of managing wifi is back.
All in all, it seems it would be smarter, if Sprint has to interfere with wifi management, to have it default to off, so the first-time user experience would be a little more focused on the wonders of EVDO and less on how to disable its interference.