Russian general threatens Poland
It sure is escalating quickly.
AP: "A top Russian general said Friday that Poland's agreement to accept a U.S. missile interceptor base exposes the ex-communist nation to attack, possibly by nuclear weapons, the Interfax news agency reported."
Almost as if the Soviets Russians had a plan.
Gotta wonder if Bush is up to this level of confrontation.
Hope he talks to his dad and Scowcroft, and listens.
And someone needs to tell McCain, seriously, STFU.
They picked the perfect time to challenge the US. (For them, worst for us.)
Hat-tip, I read about this first, of all places, on Powerline, a right-wing blog. I thought at first, oh yeah sure, they're blowing it out of proportion, but, unfortunately, they're not.
It's in Pravda too, whatever that is, these days. It used to be the house organ of the Soviet Union, when there was a Soviet Union. Seems pretty clear, the Russians want to reconstitute their old empire, at a minimum.
Follow the discussion on FriendFeed.
Perfect timing!
I just read this interesting post on Louis Gray's blog.
Essentially now any Twitter client can now associate another post as a reply to another existing post. This means that Twhirl or TweetDeck can allow a user to post a normal status update, and provide a "+" sign underneath and a new post can be appended as a reply to the previous post.
Hmmm. Where have I seen that before?
Oh yeah! Sounds like an outliner.
Update: I've got something working with a test account. You can actually walk the threading structure in the browser. Nice!
Here's what the threading looks like in the outliner.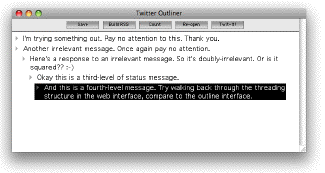 Click on the pic for a larger image.
The beginnings of community
Yesterday an update of FlickrFan shipped for the Summer of OPML project, and as we hoped, new users popped up and all of a sudden it's a teeny little bit like a community!
So, of course it's time to put it in perspective, with a howto explaining how to report problems and ask for help.
http://editor.opml.org/community.html
Hope you enjoy, and you're free to repurpose it for other projects, but attribution is requested.